White Christmas (Michael Curtiz, 1954): USA
Reviewed by Collier Grimm. Viewed on DVD.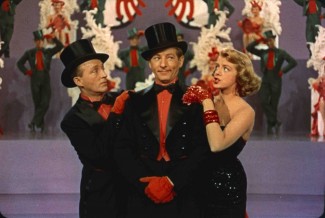 Bing Crosby will surely croon your heart away in this '50s must-see, Christmas classic: White Christmas. Most likely the film will be playing on every television channel possible for the next month; however, the restored version in Vista Vision on DVD is gorgeous.
Crosby and Danny Kaye play two WWII vets, Bob Wallace and Phil Davis, that team up to become a song-and-dance act. While touring nightclubs the two are introduced to a sister act with similar talents.  As romance blooms, and the songs get mushier, Wallace and Davis decide to follow the sisters to Vermont where they are booked to perform. However, upon arrival Wallace and Davis run into their former commander, General Waverly, and all hell (in the cheery, musical-comedy sense of the word), breaks loose.
The film is glittered with spectacularly choreographed song-and-dance numbers that work to enhance the familiar plot structure: boy meets girl, boy loses girl, boy gets girl. Kaye remains unusually low key as Wallace the groveling side-kick, and actually gains romantic credibility in the famous, "Dancing Cheek to Cheek" scene. Rosemary Clooney and Vera Ellen play the unbelievably dissimilar Hanes sisters, and imagination is key while watching the two opposites re-produce sisterly love.  Ellen's training as a dancer is highlighted in music filled numbers, complete with elaborate costumes and tambourines; while Clooney's sultry voice breaks hearts as she sings her smash hit, "You Didn't Do Right by Me."
With hopes that this classic post-war love story brings you and yours the holiday spirit, I recommend White Christmas, frosted window panes, and painted candy canes on the tree. After all, aren't we all dreaming of a white Christmas?

---