SBIFF Producer's Panel (2014)
Reviewed by Mirass Jalil. Viewed at Santa Barbara International Film Festival.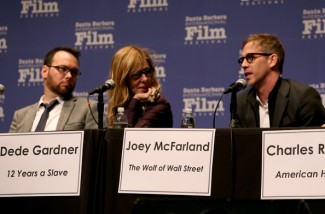 The crowed is waiting eagerly, when at last the seven producers, behind seven oscar nominee films, is presented by the moderator, John Horn. The producers are Robbie Brenner (Dallas Buyers Club), Dana Brunetti (Captain Phillips), Dede Gardner (12 Years a Slave), Joey McFarland (Wolf of Wall Street) Charles Roven (American Hustle), Gaby Tana (Philomena) and Ron Yerxa (Nebraska).
Each producer present their film and how they came in contact with the project. Dana Brunetti said that he was watching the story on the news and immediately contacted his colleague telling him about the project and that he wanted the film. However, they had to wait and see if the Captain survived. Once it was all over they called him the day after he was rescued to get the rights and then decided to fly over to Canada to see the Captain. He then later wrote a book and they adapted it to a screenplay. Nevertheless, the story how Joey McFarland and his "The Wolf of Wall Street" was able to make it to the theaters is different. All the way back to 2007 have Leonardo DiCapri wanted the film and won a bidding war with Brad Pitt, so Warner Brothers held now the rights to the script and it laid there for a couple of years. After all the waiting it didn't seem as the film would be made, but then everything fell in to places and McFarland got his precious cast, and in  2012 the film was green lit with Scorsese attached to it.
The producers were asked what the most important thing is when it comes to producing and we got pretty much the same answer from all the producers. That the most important thing is to follow the director and actors vision, learn to adapt to it, be flexible and spontaneous. For example Robbie Brenner said that they shot "Dallas Buyers Club" in 25 days and without any lighting package, due to money problems. It was of course chaos and she wanted to fix it, but the director (Jean-Marc Vallée) said that he has shot without lighting several times and that everything is under control so she let it go and trusted him and his vision. Another example is when Martin Scorsese decided that a Mercedes doesn't send the message completely and instead wanted a white Lamborghini from 1989, which by that time only seven of this exact car existed. Joey McFarland said: "You don't say no to a director like Martin Scorsese", so he put money on the car because he wanted to follow Scorsese's vision.
The whole panel ended with a last question; what is the best thing, for you as a producer, in the job? The best answer during the whole panel came from Ron Yerxa. After "Nebraska" first screening he got several fan-letters saying that they reconnected with their parents again, and this for him was the best thing you can wish from the business. Joey McFarland gave us two answers. One of the best thing was when you know you've provided new thoughts and conversation into peoples life. The other thing is when you manage to get a project or finish a project that no one believes in, just like "The Wolf of Wall Street."

---
About this entry
You're currently reading "SBIFF Producer's Panel (2014)," an entry on Student Film Reviews
Published:

02.16.14 / 5pm