Do you believe in love? (Dani Wasserman, 2014): Israel
Reviewed by Cornelia Eriksson at Santa Barbara International Film Festival.
I am glad to see that Santa Barbara film festival presents films about minorities such as this Israeli short documentary film about a several handicapped people who are trying to find love.
"Do you believe in love" is this charming documentary about Tove who is suffering from muscular dystrophy. Together with her husband and children, she runs what she calls it, an "matchmaker business" where she helps all kinds off people find love. During her consultations she is completely honest with her customers and say things they do not always want to hear.
The story is sad and touching at the same time as Tove's dry sense of humor makes it really funny at sometimes.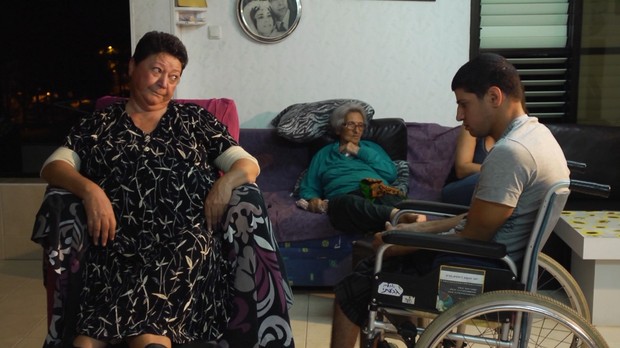 I think that the director's intention was to create a "Imagine if that was you" kind of feeling. If that was his intention I think he succeeded because as a audience you start to analyze about what's really important in life and what really matters in relationships. It also got you thinking about you own existence and if you really paying attention on the right things in life.
It is a low budget documentary which they edited quite differently and in which they didn't use a lot of lights or interviews. There is also a lot of room for own interpretations and a good example of that is all the long periods of silence just right after all the serious discussions Tove has with her "clients". I liked a scene where a man and the woman in the wheelchair talks about children and then suddenly a woman with a baby appears in the background. I don't know if he did things like that on purpose.
My favorite part in the movie is when suddenly a beautiful melody begins to play, some old wedding footage is shown and Tove and her husband starts to tell how they met each other, how Tove's disease has affected their relationship and Tove's husband starts to explain why he has stayed with her after all these years.
"Do you believe in love" is a love story in itself and it makes you, weather you have experienced love or not, realize that love exists and it can be discovered in every little corner.

---
About this entry
You're currently reading "Do you believe in love? (Dani Wasserman, 2014): Israel," an entry on Student Film Reviews
Published:

02.11.14 / 10pm
Category: