ROMA (Cuaron, 2018): Mexico, USA
Reviewed by Larry Gleeson
Viewed at the new home of the Santa Barbara International Film Festival (SBIFF), the Riviera Theatre, recently renamed the Lynda and Bruce's Rivera Theatre in honor of SBIFF philanthropic benefactors, Lynda Weinman and husband, Bruce Heavin.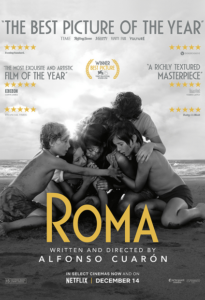 Alfonso Cuaron's latest diatribe of Mexican life, Roma,winner of the 74th Venice International Film Festival's top prize, the Golden Lion, and favorite of the Chicago Film Critics Association, is Writer/director Alfonso Cuaron's (Gravity,Y Tu Mama Tambien) latest diatribe of Mexican life. Set in Mexico City's Roma District during the politically turbulent time of the 1970's, Roma follows the life of a young servant, Celo, portrayed by first-time actress, Yalitza Aparicio, in a deeply felt performance. Aparicio holds her own alongside a strong performance from acclaimed, veteran Mexican actress, Marina de Tavira, who portrays Senora Sofia, wife, mother and head of the household where Celo is employed.
In homage to classical Italian Neo-Realism, Cuaron infuses Roma with elemental characteristics of Neo-Realism with his choice of a first-time, non-professional lead actress, the use of a seemingly realistic setting and exhibiting the film in black and white.
But far from using left over film stock from a war-torn film industry, Cuaron uses a 65mm stock that provides flexibility in shooting a highly realistic, tracking shot of a death-defying, nerve-wracking, rough-hewn, ocean scene and lustrous landscape shots that balance and sit in juxtaposition to the poverty-strewn scenes of a Mexico City ghetto.
In its essence, Roma, is a highly crafted, highly orchestrated work of art. Cuaron makes every shot count, every moment a well-conceived and executed thought brought to fruition enticing the viewer to suspend disbelief. Cuaron then, and only then, deftly adds a shot to remind the viewer that Roma is a film. That's how masterful Cuaron has become with his filmmaking craft. In addition to writer and director credits, Cuaron also is solely credited for cinematography and shares an editing credit with Adam Gough (Bees Make Honey).

And, that's not to take anything away from the film's narrative. Highly autobiographical, Cuaron draws and executes scenes from his memory and manages to wrap them around his central character, Celo, with exquisite art direction from Carlos Benassini and and Oscar Tello and powerful production design from Eugenio Caballero, then slowly allows the layers to melt away leaving the viewer with an exaltation that must be seen and experienced to be believed. I highly recommended that this film is seen on a cinematic screen!
While it is streaming on Netflix, its full flavor is best enjoyed in a theatrical experience where sounds abound, camera movements mesmerize, performances loom large and the mise-en-scene transports.
One of the year's best films….if not the very best.


---
About this entry
You're currently reading "ROMA (Cuaron, 2018): Mexico, USA," an entry on Student Film Reviews
Published:

12.16.18 / 1pm
Category: