Paper by Patrick Gordon-Davis.
The lifeless body of a woman is found in a roadside gutter, stuffed underneath a slab of concrete, gagged, bound, and strangled. This is the inciting event of Memories of Murder (2003), director Bong Joon-ho's second film. Though ostensibly the focus of the film, the serial killings function as a sort of red herring, deliberately misdirecting the audience through manipulation of genre conventions, to tell a story of larger significance. Memories is a subtle investigation of the societal dysfunction resulting from the conflict between traditional Korean society and rising Americanized modernization, supervised by the military dictatorship of the time––a serial killing is one of many symptoms of this dysfunction. Particular attention will be given to the penultimate scene in the film, where it is conclusively revealed that both traditional and modern approaches have failed to penetrate the inscrutability of the truth, the philosophies guiding the two detectives have been inverted, and justice is nowhere to be found. The crux of the matter is that modernization is unable to solve the problems it is creating.
In order to fully grasp the deeper meaning of Memories, it is important
Reviewed by Larry Gleeson. Viewed at the Santa Barbara Metropolitan Theatre, Metro 4.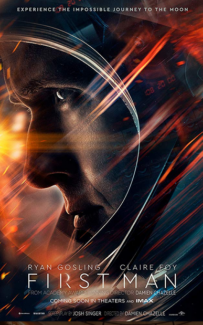 First Man (2018), a newly released biopic on the Space Era Neil Armstrong, from self-claimed film auteur and Academy Award-Winning Director, Damian Chazelle (La La Land), hits all the marks for a successful box office take in the current climate. First Man has already received nominations for best film from the Oscar-campaign-launching, Venice International Film Festival (Golden Lion Award) and the massive Toronto International Film Festival (The People's Choice Award).
Oscar-winning, La La Land composer extraordinaire, Justin Hurwitz, returns to the Chazelle fold, bringing slightly more than is required for effect with a mesmerizing First Man score. Hurwitz creates such a beautiful composition it is easy to overlook its occasional intrusiveness. Linus Sandgren (Best Cinematography Oscar for La La Land)  is also back with his roving camera movement which is a bit dizzying. For the most part, despite a jar or two (not surprising with Sandgren's camera shooting style) Editor Tom Cross, kept the flow fairly continuous, if not seamless. And, last but not least, Canadian-born actor, Ryan Gosling,