Viewed by Larry Gleeson as part of the 2018 American Film Institute's AFI DOCS.
Under The Wire, tells the story of a daring entry on 13 February 2012, into war-ravaged Syria by two journalists. One of them was celebrated Sunday Times war correspondent, Marie Colvin. The other was photographer, Paul Conroy. Their aim was to cover the plight of Syrian civilians trapped in Homs, a city under siege and relentless military attack from the Syrian army and report on the untold suffering of women and children who were the kept secret of Assad regime's assault on dissenters. Under the cloak of combating terrorism, the regime was effectively silencing the call for democracy…
Director Christopher Martin [Review (1969), The War on Democracy (2007) and Under the Wire (2018)] opens the film with footage of Conroy at one of his darkest moments in Baba Amr, a city-district in southwest Homs in central Syria. Much of the opening sequence has the feel of an expose'. However, that soon gives way to a non-linear narrative that juxtaposes, at first Conroy, and later fellow journalists, recollections
Viewed by Larry Gleeson as part of the 2018 American Film Institute's AFI DOCS.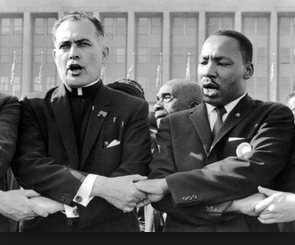 Hesburgh is a biographical account of Father Theodore Martin Hesburgh, an ordained priest of the Congregation of Holy Cross. Hesburgh is widely known for his tenure, from 1952-1987, as President of the University of Notre Dame, located in South Bend, Indiana. Others knew Fr. Hesburgh as a confidante and as an advisor to American Presidents including, Dwight D. Eisenhower, John F. Kennedy, Lyndon B. Johnson and Richard "Dick" Nixon. But, Director Patrick Creadon and Producer Christine O'Malley get behind the public persona and weave a story of mythic proportions.
Beginning with his ambitious plan to transform Notre Dame from an average academic institution with a great football team into a leading university for personal examination, exploration and learning, Hesburgh began wooing captains of industry for financial support and invited Fr. John Courtney Murray to lecture on the highly controversial tome The Catholic Church in World Affairs, at the University of Notre Dame. The voice-over narration and black and white still photos add a sense of historical significance and deification of what Hesburgh was engaging