Reviewed by Lynn Hartell. Viewed at Metro Theater 4, Santa Barbara.
The Island, by first time filmmaker Adam Weingrod,  is a touching glimpse of  the community living and working at a hospice in Jerusalem. French Hospital St. Louis is located near the Old CIty walls, on the border between East and West Jerusalem. It invites residents from all parts of the city with diverse religious backgrounds including Jewish, Muslim and Christian.
The film takes a slow-paced and gentle look at the end of life. It primarily focuses on David, one of the caregivers, and several of the residents he cares for.  David, an Italian ex-monk, says "he hit the lottery" by doing work he loves. He feels that the end of life should be happy and that this is a special time in life. His gentle nature and care for his patients is shown as he bathes, feeds and moves them.  He feels that caring for his patients in this way is a meeting of two souls.
One would expect a hospice to be dark and depressing but instead Weingrod skillfully creates a place of beauty and light. There is joy and humor, conversation and connection. We see
Reviewed by Thomas J Miller.  Viewed at the Santa Barbara International Film Festival, 2018.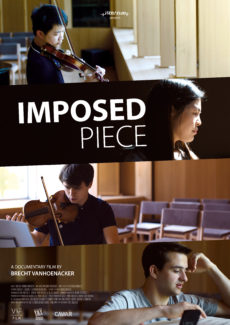 An "Imposed Piece" is a musical work presented to competitors in a world class music competition.  In Brent Vanhoenacker's, Imposed Piece, we meet several of the 12 finalists in the Queen Elisabeth Competition, held in Belgium annually. These young finalists represent virtuoso talent from around the world.
In an age of media dependency, these musicians must surrender all electronic connection to the outside world and practice the assigned concerto and imposed piece, day and night, for the eight days they are given to master the works.  The film elegantly shows the passion and commitment these musicians possess and must maintain to enter the final round of the competition.  Tension and fear turns to certainty of purpose, as the final days draw near.  They are at the competition to win and whatever the outcome, there is a peace that they have achieved this elite position of ranking in the world of their peers.
The name of one of the contestants, Jiyoon Lee, is transposed throughout the rehearsal period, in interviews and in the final moments before the winner of the competition is announced.