Viewed by Larry Gleeson at the TCL Chinese Theatre during the 2018 TCM Classic Film Festival.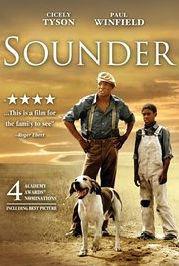 Sounder was produced in 1972 and was adapted from a 1969 Newberry Award-winning juvenile novel by William H. Armstrong. The story follows a young boy and a family of black sharecroppers during the Great Depression era. The father, Nathan Lee, played by Paul Winfield, steals food to provide for his small family. When He is caught he is charged with illegal trespassing and robbery and sentenced to one year of hard labor in a Louisiana Parish prison camp. John A.Alonzo provided the film's cinematography and contributed significantly to the film's exquisite mise-en-scene while Taj Mahal created an authentic, highly original musical score.
Director Ritt marketed the film to ministers and educators allowing the film to make a nice profit. Lead actors Cicely Tyson, as Rebecca Lee, and Paul Winfield were both nominated for Oscars. The 2017 film, Mudbound, also nominated for four Oscars, shows a powerful, tour-de-force performance from American singer-songwriter, Mary J. Blige. I felt Blige's performance shared a remarkable resemblance to Tyson's performance.
The narrative strikes
To Have and Have Not, viewed by Larry Gleeson, during the 2018 TCM Classic Film Festival at the historic Egyptian Theatre in Hollywood, California.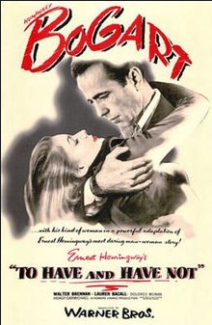 While the rest of the TCM Classic Film Festival was up Hollywood Boulevard at the historic Chinese Theatre for the Opening Night Gala or at the Chinese Mann Theatres, a demographically, well-represented audience experienced an extraordinary film emanated from a bet between legendary Hollywood director, Howard Hawks and one of my favorite literary heroes, Ernest Hemingway, a Nobel laureate. Prior to the screening, the audience was treated to a talk by film historian and film producer, Michael E. Uslan.
Uslan provided the audience with tidbits of information to stimulate and whetten the audience appetite for the main course. For instance, the film's female lead, Lauren Bacall was nineteen years old and Humphrey Bogart, the film's male lead was forty-five years old during the film's production. A year later Bogart divorced his wife and married Bacall. They remained a couple until Bogart's death in 1957.
Legend has Hawks gushing over Hemingway one night singing the writer's praises until finally proclaiming he