Reviewed by Kaio Farkouh.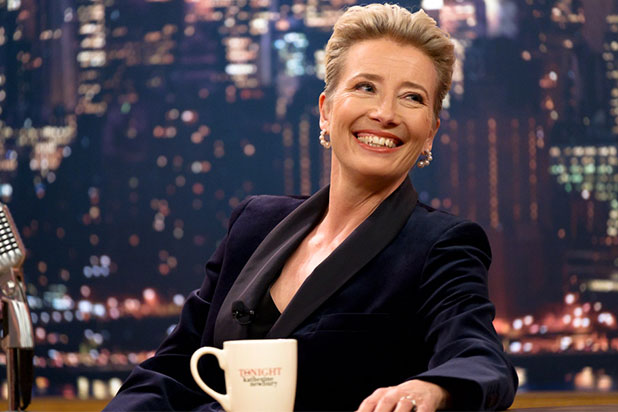 Directed by Nisha Ganatra, the Canadian director, which is known for her work directing tv shows, for example,  Brooklyn Nine-Nine, Transparent, Shameless, and the list goes on. "Late Night" premiered at the beginning of the year at the Sundance Film Festival, and after good reactions, the movie was bought by Amazon Studios and distributed. Around 2 years ago, when Amazon studios bought 'The Big Sick" and it got a mid-year release, and by the end of the year got a nomination for best screenplay at the Oscars. So I believe they will try to do the same thing here because this is a good movie.
The movie tells the story about Katherine Newbury (Emma Thompson), she is a host on the late-night-talk-show circuit. She has been doing it for years, and we can clearly see that she is very well known, however, she has been doing the same thing for years, which is when her manager tells her that due to low ratings, this will be her last season hosting the show. So she demands her writers, which is when we are introduced to the lovely Molly (Mindy
Reviewed by Kaio Farkouh and edited by Rachel Clyde. Viewed at the Cannes film festival.
After his debut with the horror-period film "The Witch," director Robert Eggers is back with another hit. "The Lighthouse" premiered in Cannes, and after 5 hours in line to watch this movie I can tell you that it was worth it. Robert Pattinson and Willian Dafoe play light keepers who take care of the lighthouse for 4 weeks. Due to weather problem the ship that was supposed to pick them up never shows. With that, the characters have to manage to live with each other and survive the madness and insanity on an island.
Screened in a frame 3×4 screen and black and white, the movie is gorgeous. It is outstanding what Robert Eggers has done with only two movies in his short history as a director. The way he coordinates the scenes and lighting of the movie is amazing. It gives a sense of darkness and mystery in the characters. The first hour of the movie kept me wondering what is going to happen and what is the director trying to show us. The film depicts