Reviewed by Kaio Farkouh.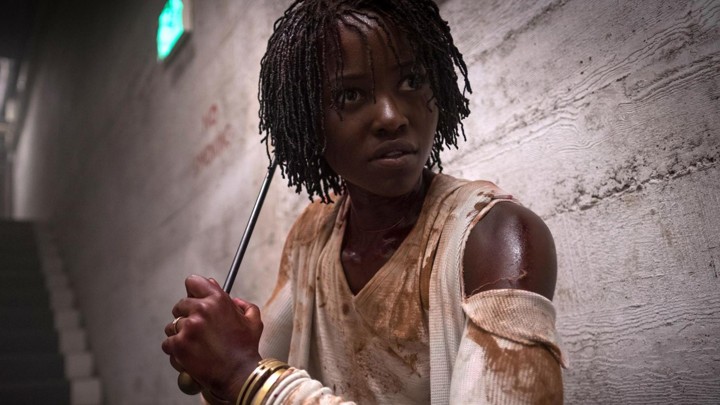 Two years ago, Jordan Peele launched his first feature film, "Get Out" (2017). It was by then, that we were introduced to one of the best directors working today. The movie got a lot of attention, being a horror with a social satire. Jordan ended up winning an Academy Award for best original screenplay. This year, he is back with his new feature film. The expectations were so high, and did he live up his name of his first movie? Is it any good? Let's find out.
"Us" follows the story of thew Wilson family, who decide to go on a trip to Santa Cruz, to enjoy the beach and friends. The same beach that the character Lupita Nyong'o (Adelaide Wilson) grew up and had a traumatic experience. Lupita knows that somethings is not right, she feels like something is about to happen, when in fact, it does. The family Wilson meet their doppelgängers and the movie turns into a survival horror.
Jordan Peele knows how to create suspense, in an age where horror movies are based on jumps scares, Jordan likes to create the
Reviewed by Kaio Farkouh.
In one of the best films of the year so far, the director Christian Petzold ("Phoenix", 2014) the movie premiered last year at the Berlin film festival in competition for the golden bear. Over one year later, the movie finally released in the US, my advice; make sure to watch it.
"Transit" follows the story of Georg (Franz Rogowski), that after a Nazi invasion he decides to leave his country go to France. In the way he meets a guy, a writer that he was supposed to help make him meet his wife, that is waiting for him in France. However, the guy passed away and Georg impersonates the writer, so he can follow his will to leave Europe.
The movie is such a great achievement in many ways, it starts with a tense sequence just two guys talking and then running away from the Nazis, and since then the movie uses an approach where there is a narrator of the story, that never makes us feel like we are not capable of understand what is happening, but he gives us more informations and feelings about the