The Housemaid (Im Sang-soo, 2010): South Korea
Reviewed by Samuel Gonzalez. Viewed at the AFI Film Festival, Hollywood.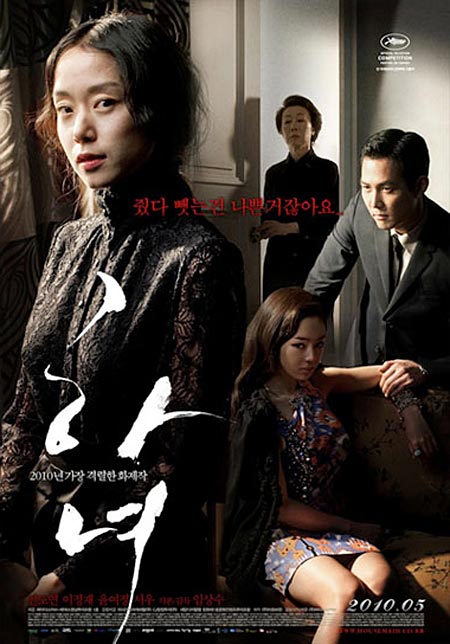 The remake of the film The Housemaid,  re-written and directed by Im Sang-soo, is an absolute delight, from beginning to end. The film starts in a rather dark mood where a young lady commits suicide, but the overall camera angles and setting is spectacular. From that moment on you have the introduction of whom clearly is the main character of the drama, an asian young woman played by Jean Do-young who is approached by an older woman offering her a new job in which she would not only take on the great responsibility as the housemaid but also the caretaker of the young daughter of a very wealthy married couple. The young woman is then approached by the wealthy husband played by Lee Jung-jae who initinates a sexual affair with her. She of course unsure of how to react goes along with the approach, although it is very much clear that she has absolutely no problem in doing so. The film then goes into more of a dark story when the wife becomes aware of their doing.
Director Im Sang-soo is an absolute genious for re writting this incrediable film, and can be enjoyed and appreciated by anyone who loves a great film.
---
About this entry
You're currently reading "The Housemaid (Im Sang-soo, 2010): South Korea," an entry on Student Film Reviews
Published:

11.15.10 / 11pm
Category: