Light in Darkness (Helena Ignez, Icaro Martins, 2010): Brazil
Reviewed by Linda Sweatt at metro theatre, part of the Santa Barbara International film festival.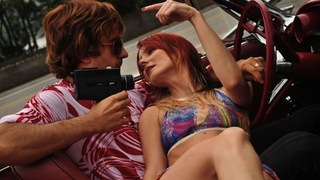 Light in Darkness: Return of the Red Light Bandit
An art film based on history; a love story of the legendary bandit 'Red Light' and his son 'All or Nothing'. Both political and existential, This film is a third world western jump cutting from black and white, past and present.
WHO AM I?
I'M A PRISONER OF MYSELF.
TIME MOVES BACKWARD IN PRISON. WE LIVED EVERYTHING AT THE SAME TIME.
HERE THE BULLET IS THE ONLY LAW. PRISON IS THE UNIVERSITY OF CRIME.
I SEE A LIGHT IN MY BRAIN. THE WORST BLIND IS THE ONE WHO DOESN'T WANT TO SEE.
I FEED MYSELF WITH CARBOARD SOUP. I WAS HUNGRY AND THIRSTY FOR JUSTICE.
IF CRIMINALS KNEW WHAT IT WAS LIKE TO BE BEHIND PRISON WALLS NO ONE WOULD COMMIT A CRIME.
I WAS BORN GUILTY.
TRYING TO ESCAPE FROM MYSELF, I FINALY FOUND MYSELF TOTALLY.
IT IS HUNGER THAT CAUSES CRIME. MISERY IS OUR BIGGEST WEALTH. IN BRAZIL ONLY THOSE WITH MONEY ARE CONSIDERED HUMAN BEINGS.
A WOMAN WHO KNOWS ME NEVER FORGETS ME. STRIPTEASE IS THE BIGGEST FORM OF FEMINE ELEGANCE.
TODAY I AM THE SUM OF ALL MY EXISTENSE.
IS THERE A INFINITE BEYOND US?
THE THIRD WORLD IS GOING TO BLOW UP.
IT IS TIME FOR EVERYTHING TO BEGIN AGAIN.
I ACCEPT MY SINS, MY LATIN BLOOD.
MY CAPTIVE SOUL
MY LATIN BLOOD
MY CAPTIVE SOUL
LIGHT IN DARKNESS
I loved this film! It is fascinating, gorgeous, bizarre, controversial and above all else, highly entertaining. My favorite is the end where Red Light is freed, money and woman await him, sings and daances on the roof  in the night with the stars: LIBERATED AT LAST!
---
About this entry
You're currently reading "Light in Darkness (Helena Ignez, Icaro Martins, 2010): Brazil," an entry on Student Film Reviews
Published:

02.07.11 / 7pm
Category: