Jealous of the Birds (Jordan Bahat, 2011): USA
Reviewed by Kris Mendes from the Santa Barbara Museum of Art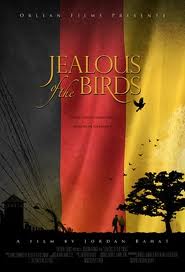 Jealous of the Birds screened to a very serious and well-dressed audience on Wednesday February 1st, in the evening.  A difficult subject, knowing one was there to watch and listen to the painful stories that surrounded the tragic trajectory of events that led to the Holocaust and its aftermath.  But the movie was more than stories, as one participant/interviewee clarifies with conviction:  "this is not a story, this is a life".  And what lives those were, of brave souls that chose to stay in Germany, to live their entire lives in Germany, as if the Holocaust and its perpetrators and supporters were not a reason to consider migrating elsewhere.
The documentary shifts back between old interviews, black and white photographs and full color mid-range interviews, and I think this is a beautiful contrast between the old and the new, giving it as sense of history, past and present.  The use of color, old photography and film create this ambiance for the documentary and make it easy to follow and stay engaged as the scenes transpose between the different generation perspectives.  I think time was a healing factor depicted through this cinematographic method to create a bit of separation and ease some tension from the documentary.  Also, it was quite interesting to see the director's choice to coat some shots around a superimposed picture of an old wooden frame tv set, as if the audience was watching the set itself.
Jordan Bahat's Jealous of the Birds does a great job at presenting a hard-to-have conversation of post World War II Germany, and the reshaping of a new identity for Germany not just "as a life' but as a nation of lives in healing and rebuilding.
---
About this entry
You're currently reading "Jealous of the Birds (Jordan Bahat, 2011): USA," an entry on Student Film Reviews
Published:

02.15.12 / 9am
Category: