After Lucia ( Michel Franco, 2012): Mexico
Reviewed by Lorena Alvarez. Viewed at the AFI Fest 2012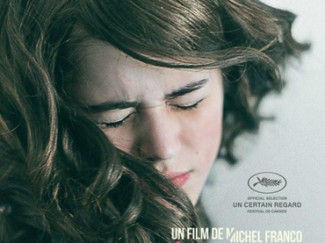 Michel Franco takes an honest treatment of this growing social problem, called bullying. When Alejandra (Tessa Ia) and his father, Roberto (Hernan Mendoza) move from Puerto Vallarta to  Mexico City , she  discovers that evil can exist in adolescents.  At her new school, the protagonist is taken to the limits of bullying, at the same time she deals with his father's depression caused by a tragic event. This is the plot of a story that makes the audience feels uncomfortable. Ale and his father are broken and silent, trying  to hide their feelings from each other. The father-daughter relationship is one of the most painful stories. Both  are locked in their world, focused on their pain, unable to see what the other passes, both decide to hide the harsh reality.
Six months after the death of his wife Lucia, Roberto decides to start a new life with his teenager and only daughter Ale in Mexico City. When everything seems to be going  well for both, Ale gets caught in a scandal after being recorded during sex with her "friend".  After that another student upload the video on Internet, and Alejandra is labeled as easy girl. Suddenly, she endures a multiple events against her dignity and self-esteem. Alejandra does not have any reaction, so she becomes a victim. The number of abuses is heightened when the school organizes a trip to Veracruz. During the stay in that southern state, the students of middle and upper middle class become criminals. Alejandra is locked in the bathroom  and raped by drunken and drugged students.
Although manufacturing has some flaws, such as small audio glitches, the topic is so well grounded that  these flaws achieve to pass into the background.  The suspense never decay due to a well-constructed script. Beside, the good performances of the juvenile cast, make the film a very disturbing realism. The first part of the film has a slow and unclear beginning, this could exasperate those  who are accustomed to situations  which are very quickly revealed. That silence that pervades the first two thirds of the film is broken when the harassment and violence make appearance.The static camera shots and long shots let us pay closer attention to trivial elements of the frame. There's no-soundtrack that accentuates the coldness, transmitting a natural atmosphere and hyper-realistic film. Tessa Ia, carrying the weight of the film, gets credibility by creating a character who becomes physically and mentally abused.
In conclusion, it is a strong film, not suitable for some, because of the realism that the filmmaker tries to give us. However, he showed us the necessary elements to give continuity to the story and not forget the importance of this critical issue in our present. The film will confront your worst fears, as  child or  as parent.

---
About this entry
You're currently reading "After Lucia ( Michel Franco, 2012): Mexico," an entry on Student Film Reviews
Published:

11.12.12 / 11pm
Category: