Starlet ( Sean Baker, 2012): USA
 Reviewed by Lorena Alvarez. Viewed at the AFI Fest 2012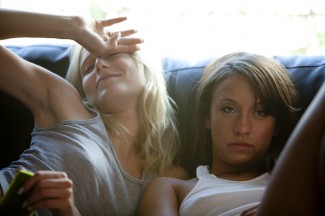 Starlet could be described as the meeting of two outstanding rookies making a beautiful friendship in San Fernando Valley. The plot is about Jane, a young girl who accidentally finds money in a thermos, event which leads her to a set of ethical thoughts: keep the money or return it to its owner. That's the beginning of this moving picture.
The film opens with Jane who is chilling in her room while her very selfish roommates are downstairs. In a wave of boredom, Jane decides to take her dog Starlet out for a tour to the neighborhood yard sales. When she is back home, she finds rolls of hundred-dollar bills inside the thermos that she boought in of this sales, adding up to nearly $10,000.
Jane spends part of the money in an extravagant manicure and a new rhinestone collar for her dog. After that, she is hesitating to make a decision about whether to return the money. So Jane finds her way back to the house where she bought the thermos, and decides to meet the owner of the money in order to spend time with her and know what to do. 

She meets an old woman. At first, the old lady somehow has her doubts about the girl, but then both grow fond of each other. Jane decides to spend her time running errands or playing bingo, and this time together provides a welcome distraction from the pettiness that Jane faces back at the apartment and a possible substitute for her mother to whom she barely speaks.
We see what Jane sees: her world is our world while we are watching this film.
 The editing was light but harmonious, this film uses a lot of saturation in the image in order to create a soft looking, the footage has been color-timed so even the nighttime scenes glow pink and purple. The filmmaker gives us a nice picture to see with this technique.
In conclusion, in spite of being a strong topic, with explicit sex and so on, the filmmaker also shows the human side of people, such as friendship and innocence, a side that—we must never forget—is better to stress than others.
---
About this entry
You're currently reading "Starlet ( Sean Baker, 2012): USA," an entry on Student Film Reviews
Published:

11.12.12 / 11pm
Category: