Old Stock (James Genn, 2012): Canada
Reviewed by Jillian P. Halverstadt.  Viewed at the Metro 4 Theatre, Santa Barbara International Film Festival.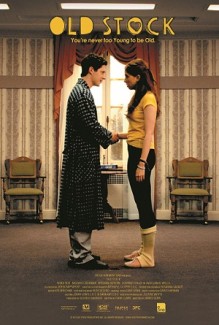 Another successful comedy from the Canadians in this years Santa Barbara International Film Festival.  Directed by James Genn and produced by Geordie Sabbagh, Old Stock is an original dramedy that delivers a balance of humor to an otherwise unfortunate situation in this story of young adults learning to cope with what life throws at them.
Stock (Noah Reid) has been living at the Golden Seasons retirement home with his grandpa Harold (Danny Wells) for two years in an attempt to avoid the outside world and his past forever.  Stock meets Patti (Melanie Leishman) who is the new dance instructor at the retirement home, ordered by her probation to gain community service hours, and there are sparks between them from the very start.  The plot really begins when Stock is basically forced to leave the home on account that everyone thinks he is wasting his life in there and it is obvious that he needs to face his past in order to move on into his future.  Reluctant to leave, Stock highjacks an electric wheelchair and sets off for his grandma Gloria's (Corinne Conley)  house where the real plot takes off, slowly hinting to what might have happened that kept him out of society for two years.
Following the screening was a short Q & A with Noah Reid, James Genn, and Meghan Heffern (Dhalia) who gave us an idea of what it was like to film in a real retirement home and film in multiple locations in Canada. The cast did a great job and I doubt that there could have been anyone better for the part of Stock other than Noah Reid whose awkward yet sarcastic demeanor worked to his advantage.  Another great aspect was that a lot of the cast members at the Golden Seasons retirement home were actual residents there.  I think everyone would agree that there is at least one character at the home that will remind you of your own grandparents.  Dane Clark (Screenwriter) and Kye Meechan (Film Editor) also did a commendable job at keeping the plot moving forward.  There was never a scene that dragged on too long yet there were no unanswered questions after the film wrapped.
Some of the camera style and color palettes of Old Stock can be compared to that of Juno (Jason Reitman, 2007).  A lot of the sarcastic dialogue also reminded me of Reitman's comedy, drama.  Overall, this is a feel good movie that will have anybody laughing.  Good for a day at the movies or even a date night.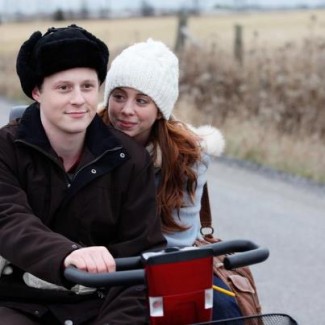 ---
About this entry
You're currently reading "Old Stock (James Genn, 2012): Canada," an entry on Student Film Reviews
Published:

02.11.13 / 5pm
Category: