The Dealers (Oded Davidoff, 2012): Israel
Reviewed by Jillian P. Halverstadt. Viewed at the Metro 4 Theatre, Santa Barbara International Film Festival.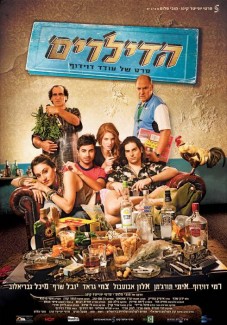 As everyone is seated and ready for the film to begin, the director takes the stage to give his crowd the overall idea of what to expect from the film and more importantly "not to take it so seriously," exclaims Davidoff with laughter.  I take the auteurs personal recommendation and it serves me well.
The film takes place in a neighborhood in Jerusalem where soccer and weed are the two main concerns of the small community.  The main characters are two best friends in their late twenty's who share an apartment together and when they're not at soccer practice getting chewed out by Coach Tzvika (Tzahi Grad), they are blazing as much and as often as possible. Rami (Rami Davidoff) is the ladies man who is supposed to be committed to his over controlling girlfriend Hava (Yuval Scharf), while Avishai (Itay Turgeman) is the more sensitive, quiet one who ends up falling hard for an acid-tripper chick named Getprik (Michal Gavrielov).  The two friends end up getting into some serious trouble with the towns biggest gangster, Sagi (Alon Aboutboul), and grow deeper into debt with him no matter how hard they try to pay him back.  A great comedy that will have you laughing out loud, it also holds some more serious themes of friendship, responsibility, youth, and loyalty.  Davidoff was definitely able to direct this film in a way that reflected sincere humor in this small city in Israel.  Just as he announced right before the film screened, in oh so many words, America is not the only country that enjoys smoking pot.
The Dealers can be best compared to any stoner films such as Harold & Kumar Go to White Castle (Danny Leiner, 2004), and all of its following trilogies. Davidoff also announced his film as a modern day Israeli version of Fast Times at Ridgemont High (Amy Heckerling, 1982) which I could not agree more with.  Oded Davidoff and his cast and crew achieved the goal they were going for but on the way opened up a whole new genre of Foreign Stoner comedies to Americans like myself.
I really got a laugh out of the film but I am also aware that this is not the kind of film that everybody will appreciate.  If you are someone who takes life seriously and carries a strong dislike for anything that has to do with smoking weed then do not see this film!  If you know how to relax and are looking for a good laugh then this is a must see for you.

---
About this entry
You're currently reading "The Dealers (Oded Davidoff, 2012): Israel," an entry on Student Film Reviews
Published:

02.11.13 / 9pm
Category: