Documentary Shorts, Santa Barbara Film Festival 2013
Reviewed by: Alexander Berg Viewed at: Museum of Art, Santa Barbara
The Documentary shorts this year were titled "A diverse range of short documentary portraits on professions and people whose life experiences bring insights and depth into the human condition." and we are truly given what the title says. The productions vary a lot, from shaky handheld camera footage that was clearly made in someones free time to a well produced documentary with Seth Green doing voice over. These documentaries show us a wide arrange of people and their professions and we are constantly given hope through the eyes of these people.
The Bronzer (2012)
This is a funny short documentary with an amazing character.
The director of the film is Peyton Wilson who has worked with a lot of commercials before for example Nokia. The documentary is 12 minutes long and was shot over the span of six months.
We follow Stute Larkin, a salesman of bronzed shoes, a line of work which pretty much died out decades ago. He is a really charismatic man who according to himself is a much better salesman than other business men, we follow him around making these sales and find out what keeps him going.
This was a hilarious piece of a character that really entertains the audience without knowing it. He is really a one of a kind which makes this documentary work really well. I strongly suggest seeing this as you get a glimpse in a line one of work long forgotten but leave with a character you won't soon forget.
The Art of Boxing (2012)
I thought this short was a bit slow paced and had a pretty uninteresting character.
The director of this short has worked as a producer for "Oprahs Master Class" and from what I can see he has not directed any documentary before this one.
It's main character is Newton "the butcher" Kidd, a boxer from Bronx. It consists of an interview with Kidd and talks about what boxing means to him.
I though that this was way to slow as I was watching it, there are not really any exciting moments until one at the end, the rest is just camera shots of him talking mixed with some slow-motion boxing shots. I wouldn't recommend this unless you are really interested in boxing.
Jujitsuing Reality (2011)
This is a well produced, nicely shot and interesting documentary that I found highly inspirational.
The director of this film is named Chetin Chabuk and has mostly worked as an assistant editor on shows like "Dallas" and "Frontline".
This documentary is about Scott Lew who is suffering from Lou Gehring's disease meaning that he is almost completely paralyzed in his body. Despite this he is a screenwriter, writing letter by letter by pointing a lazer-pointer attached to his head towards a computer screen, an extremely slow process. We are taken through the story by Seth Green portraying the voice of Scott. Now and then we see scenes from one of his scripts with Seth Green acting, again showing us how good Scott actually is.
I really loved this one, not only because it was well produced but also because it was a very touching and interesting subject. This is truly something I've never seen or heard about before. The cinematography, sound and editing is very well made, everything but one scene is recorded on the same location and it's still extremely interesting through out the whole thing.
Brute Force (2012)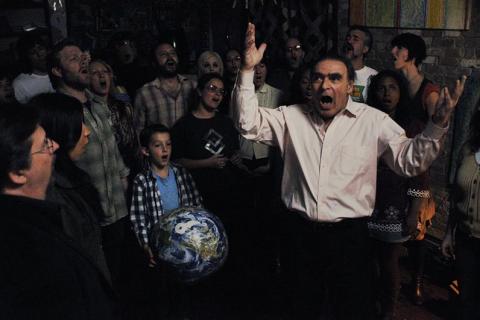 This is a really nice short that has humor as well as drama, I would recommend it to anyone.
The writer of this documentary is named Andrew Fuller and has earlier directed a short documentary called "American Jonson: How Big Is Your Cactus?".
It tells the story about Brute Force, an American musician who was about to release an album on Apple Records in 1967, greatly supported by George Harrison and John Lennon. Right before the release the music was censored and the release was shelved. Still having kept the dreams of becoming a star Brute currently works in an office but in 2010 Sony and Apple reissued the release giving him the chance to perhaps become a rock star after all. We follow him and his daughter through the release process and the emotions they are experiencing.
The cinematography was not always on the top of the game, although the only reason you think of that was because everything else in this story is really well made. This documentary is really interesting and has a very loveable but at the same time frustrating character. I really liked the way we go through the adventure, the mix of humor and drama is perfect. This is an extraordinary story of an extraordinary person.
Georgena Terry (2012)
This is a nice short that has a good story worth watching.
The director is Amanda Zackem who is a Director, Cinematographer and Photographer. She has directed a short film called "The Black Series"
This short documentary is about Georgena Terry, a woman who specializes in creating bicycle frames for women, needed due to their different body structure. We see her talking about how she got started as well as what issues she ran into becoming a bicycle maker.
This documentary has a good story and good cinematography, although I find that it fails to stand out. Never the less this is a woman who has done a lot for women bicyclists and this documentary therefor deserves all the attention it can get.
Mr. Twister (2012)
This is a really inspiring documentary with a really interesting character.
The director is Clay Westervelt who has worked a lot as a cinematographer on many projects, a recent one was the documentary "I Am Divine"
This is a story about Brian Tolley, an autistic teenager who creates art by twist-ties. We follow Brian in his life through how he creates his art to the selling of it. He talk about what got him into this interest and what it does for him.
This is a well made documentary again about something we've never seen before, an original story and an inspiring character. This documentary was very good, I really recommend seeing it.
Just Add Water (2012)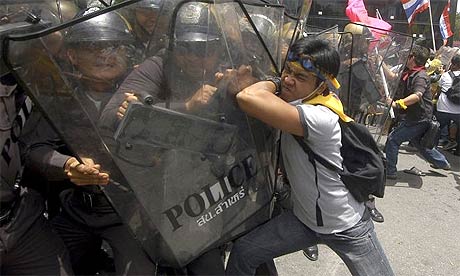 This documentary does not really have a story yet I really like the idea.
This is a short recorded 2010 in Thailand during a riot of anti-government groups, at the same time onnly a few blocks away we see images of the annual "Songkran festival" with waterfights held in the city.
The film tells two completely different stories  with interlaced pictures of the festival and the riot, at the time people are being killed we see people shoot each other with water guns. I really like the way they put this whole thing together because it creates something we've never seen before. Although I would like to see more of it, maybe more in-deepth information to tell me about what happened during and after the protests.
---
About this entry
You're currently reading "Documentary Shorts, Santa Barbara Film Festival 2013," an entry on Student Film Reviews
Published:

02.10.13 / 9pm
Category: