Wasteland (Rowan Athale, 2012): U.K.
Reviewed by Jian Gedrick at Arlington Theater, Santa Barbara CA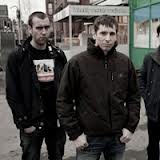 I had mixed feelings of relief and sorrow as the closing film, "Wasteland"of this year's SBIFF began to play. I had made sure I got a good seat ahead of time because it was playing at the Arlington Theatre with free admission. Roger Durling introduced the filmmakers, who presented their film and I couldn't help but notice their accents. I had already witnessed several English guest speakers at panels and Q and A sessions, and it always dawned on me why I have been asked in the past if I understood English accents. I understood the filmmakers fine and kept this in mind when the film began playing.
"Wasteland" is a heist action film I found similar to Guy Ritchie's "Snatch" and "Lock Stock and Two Smoking Barrels" both in style and also because they face the same problem. "Lock Stock and Two Smoking Barrels" had their audiences complaining of their inability to make out any of the dialogue through the thick English accents. "Wasteland" starts with a beaten young man,"Harvey" (Luke Treadaway) being interrogated by DI West (Timothy Wall). He has been caught red-handed robbing a nightclub and has knocked out crime boss (Neil Maskell) with a crowbar who's state of condition is unsure. The film follows along with Harvey as he begins to explain his whole story to the officer.
A few months ago 22-year-old Harvey was released from prison after serving a year after police raided his house and found stashes of controlled substances. Although young, his aspirations have been lost along with a year of his life. As he returns home from prison, now being an ex-convict he realizes his return back into society as a good citizen is going to lead him nowhere, hence the name of the title "Wasteland" and begins to plan an elaborate heist along with his friends of a local club belonging to the crime boss who framed him, his violent, psychopathic rival. While secretly plotting the robbery he also has to keep it hidden from his girlfriend, who threatens to end their relationship if he continues any more criminal activities.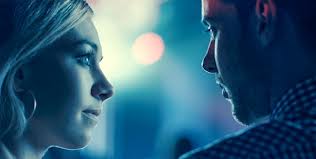 "Wasteland" had some walkouts, not for being poorly made, but perhaps because it is too difficult to understand what they were saying most of the time. Having subtitles probably would have helped the audience members. I found myself understanding the characters better once I accepted that I may not understand every word they say. The scenes with Harvey and his friends were scenes that made you feel the vibe of real sense of friendship. The actors playing Harvey's  friends: Dempsey, Dodd, Charlie (Iwan Rheon, Matthew Lewis, Gerard Kearns), played it in a way where you can feel the vibe of brotherhood they share  for each other. The shots are usually  shot in a clear  overcast sort-of-way as if you're outside on a light cloudy day. There's also a stylistic sewer scene shot in a way that reminded me of some wild music video.
While the film has a fervent cool style about it, it stands out on it's own as a unique heist film with a cool twist and creative shots. Long continuous shots with deep focus, and gritty lighting give it some polish. It also has some standard fair, dramatic face-off, between antagonist and protagonist exchanging some fighting words that goes unrealistically long and is so conspicuous it becomes a bit distracting or when one of Rob's friends tests his archery skills, missing continously but jumping with joy and satisfied that he mastered it after just one bullseye.
Despite these technical flaws "Wasteland" was a satisfying way to close the film festival. It is an entertaining piece of filmmaking that throws some clever curveballs. Director Rowan Athale seems like a new director everyone needs to look out for.
---
About this entry
You're currently reading "Wasteland (Rowan Athale, 2012): U.K.," an entry on Student Film Reviews
Published:

02.21.13 / 2pm
Category: