Lone Survivor (Peter Berg, 2013): USA
Reviewed by Nick Van Keuren. Viewed at AFI Fest.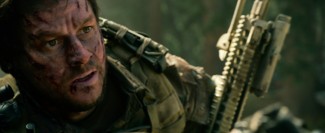 I couldn't have made a better choice than to literally "wing it" and stay an extra night in Hollywood to see the world premiere of Lone Survivor. The three and a half hours of waiting in the rush line were worth every second. The film Gods were definitely on my side this night. Within the final half hour of waiting, I was picked up by a buddy of mine to quench our pre-gala munchies. Valuable minutes slipped away as we tried to find parking, and the thought of not getting in the premiere was becoming an angering reality. Then we turn onto good ole Hollywood Boulevard where of course at that hour we weren't getting anywhere anytime soon. Just as we approach a red light directly infront of the red carpet, a black SUV labeled "AFI Official Vehicle" creeps up just meters next to us in the closed off VIP lane. There he was, my favorite player in the industry just steps away from me as he exits the vehicle and waves to the fans across the way. "MARKY MARK! SHAKE MY HAND! YOU'RE THE F*CKING MAN!". Those are the nine words I managed to conjure up and call out to the star as I threw my whole right arm out the window desperately. Marky Mark not only acknowledged me, but then proceeded to walk over to me and give me the most BADASS fist-bump I have ever, and probably will ever receive. We took back our spots in line and went on to see one of the most touching movies I was lucky enough to see at the AFI Film Festival.
Based on a true story that took place in 2005, the camera follows a pack of four Navy SEALs as they are sent out to the Afghani mountains on a reconnaissance mission to find and kill Taliban leader, Ahmad Shahd. The movie opens up with a montage of Navy SEALS at camp, with "Explosions in the Sky" playing patriotically in the background as several slow motion shots are thrown in strategically, giving the feel of deep, pure emotion. Berg was able to give us a quick taste of some of the challenges faced by the self proclaimed "frogs" before earning their opportunity to take on a mission. We also get a glimpse of the amount of brotherly love and trust that the SEALS create with one another during this critical time. I felt that this montage was very necessary and respectful, allowing us to keep in mind that Marcus Luttrell (Mark Wahlberg) wouldn't have made it anywhere close to where he did without the courageous help of his squad of frogs who he proudly calls his brothers. It became apparent to me that director Peter Berg, whose last big hit was nearly a decade ago(Rundown), really committed one hundred and ten percent of his time and effort to make sure that his tribute to the SEALs was nothing shy of an accurate portrayal of what those four brave men did on the mountain. Everything seems as planned until they are unexpectedly encountered by a group of villagers and their herd of goat. A crucial decision as of what to do with the shepards now has to be made, which isn't easily settled on among them. A decision is made to let them carry on back to their village, and it is now only a matter of time until news is spread of the encounter with the SEALs.
A heavy amount of foreshadowing seemed to always have me on high alert, always thinking about where or when the next ambush will come. One of my favorite scenes that stood out to me in terms of cinematography was when the shepards were released back down to their village. Though such a fascinating shot, Peter Berg gives it a suspenseful zing by highlighting contrast in the fast pace of the kid versus the nonchalant pace the SEALs maintain. Slow motion shots are used as the kid hurls himself from rock to rock in record time, opposed to the shot where SEAL Axelson simply loses his footing on a rock. The way in which this contrast of speed is captured gives it a cat and mouse kind of effect. Peter Berg presented his attention to detail very properly in this production. The autopsy reports of Navy SEALs Matt Axelson, Mike Murphy, and Danny Dietz were carefully examined by Peter in order to give their honorable deaths no doubt of authenticity. Each of the SEALs are given a rather heroic last breath. I recall a breathtaking slow motion behind the back shot overlooking the beautiful landscape of the New Mexican mountains, which replicate the enemy territory of Afghanistan.
Tuesday November 12th will go down as an extraordinarily memorable night that myself and many others who were in attendance will never forget. I'm aware that this is a bold statement, but I am convinced that I am not the only one who found my body taken over by several waves of chills at the end of the night as I sat there listening in on the ever so real and unforgetful after talk between Mark Walhberg, real life hero Marcus Luttrell, and director Peter Berg.
---
About this entry
You're currently reading "Lone Survivor (Peter Berg, 2013): USA," an entry on Student Film Reviews
Published:

11.19.13 / 9pm
Category: