Nebraska (Alexander Payne. 2013): USA
Reviewed by Nick Van Keuren. Viewed at AFI Film Festival, Hollywood.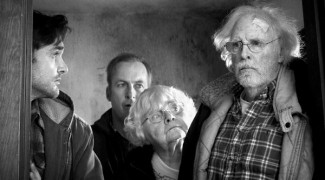 Filmed in nothing but deep focused black and white, this comedy-drama directed by Alexander Payne is almost guaranteed to hit a soft spot in even the coldest of hearts. With the presence of this ever so inspired cast, there isn't a scene where you feel anything but pure sincerity. Though it may seem slow paced and often uneventful, the relationships between each character as well as the overall feel that the setting creates is far more intriguing than that of your typical road trip movie.
Bruce Dern perfects the role as Woody, a pure yet ornery old Korean War Vet who thinks he's finally caught the break of a lifetime. Right out the gate we are introduced to Woody as he is walking slowly but surly along the freeway en route to Lincoln, Nebraska, to cash in what he thinks is a million dollar sweepstakes winner. Most people would instantly throw away a letter such as this. The fact that he even considered walking 900 miles for something so phony displays a huge part of his clueless personality and determined attitude.
We are then introduced to Woody's goodhearted son David (Will Forte) as he spots his helpless father along the highway, and proceeds to talk sense into him. As Woody explains why he was walking to Lincoln, David can't help but call BS on his million dollar offering. Being the obliging person he is, David also can't help but to sympathize for his unrecognizing father. While still in Billings, Montana, we meet Woody's belligerent wife, Kate (June Squibb), and eldest son played by Bob Odenkirk. After being left by his girlfriend, David has no commitments holding him back. It is for this reason, and to get Woody to shut up, that he offers to drive his father to Lincoln. Little did they know what life changing realizations they would face while on the road to "one million dollars".
After a short stop at Mount Rushmore, David decides to make an extended stay back in their hometown of Hawthorne to visit their relatives. It is at this point in the movie where Alexander Payne truly displays his knowledge and familiarity of growing up in Nebraska. As they pull up to their relatives' stereotypical Nebraskan debilitated house, with nothing in the vicinity besides miles of dull Nebraska landscape, we can only guess what the people inside will be like. The next scene is somewhat iconic. Alexander Payne portrays the Grant's as an unfashionable bunch who seem to rack up numerous hours sitting around the living room watching television exchanging one syllabled words, if anything, without even turning their heads.
While in the hometown of Hawthorne, all eyes are on Woody and his family as they are now thought to be the town's wealthiest. What seemed to be friends suddenly turn to foe, especially in Stacy Keach's demanding role as Ed, a former business partner of Woody's. The cold-heartedness of Ed's character is strongly portrayed through his bold eye brows and ragged face.
Nebraska is one of those heart warming films that will have you walking out the theater thinking life suddenly has new meaning. I give this movie a solid eight out of ten on account of the strong message and emotions conveyed from beginning to end. Even just the simple manneurisms of the characters display a great detail of emotion. I could see how one may think the plot was simple and often slow at times, which is why I would recommend this movie to a more mature audience. Bruce Dern's convincing, award worthy performance makes Nebraska a must watch for nearly anybody who appreciates great actors.
---
About this entry
You're currently reading "Nebraska (Alexander Payne. 2013): USA," an entry on Student Film Reviews
Published:

12.03.13 / 2pm
Category: