The Croods (Kirk De Micco, Chris Sanders, 2013) USA
Reviewed by Caroline Juul Mortensen at Santa Barbara International Film Festival 2014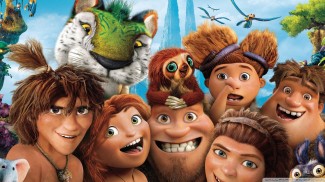 For all animation-Disney-Pixar-lovers this is of course a movie worth seeing and being nominated for an Oscar that also speaks for itself. The Croods is directed by Chris Sanders and Kirk De Micco, who also directed the film "The Quest for Camelot"(1998) which is one of my favorite animated films. They have actors in it like Nicolas Cage, Emma Stone and Ryan Reynolds who I think is doing a great job.
It is about a prehistoric family living in a cave being afraid of the world. As they are trying to survive extinction the younger daughter Eep (Emma Stone) is curious about learning new things and one day she meets the clever and more developed and modern boy Guy(Ryan Reynolds) who knows how to make fire and to come up with something as fancy as "ideas". While she is trying to force him to make more fire he tries to tell her that the world is ending. Not long after the earth is shaking and the cave of the Croods is destroyed. Now their adventurous journey begins to find a new cave or as Guy proposes: "Tomorrow", which is a place where they can be safe. At first the Croods doesn't trust Guy, but as they move further into the jungle and he teaches them how to survive he is turning into their new hero and teacher and Eep's new crush.
This story is about being open to new things and new beginnings and that we can always learn more. It is a story packed with creative and funny creatures, beautiful landscapes, lots of humor and genius characters.
I love the fact they made the Croods look like wild animals in the beginning of the film and slowly as they learn they turn into human beings. I think it is great that there is finally a film with normal looking characters and not beautiful princesses that small girls can look up to. Eep is a girl with shapes and proportions and she is not perfect and that is an important thing to teach kids.
I don't even know how to begin because this film is just filled with amazing humor. The fact that kids are more like pets, that Guy has a monkey called "Belt" who also is a belt, that the father all the time hopes that the grandmother will die or disappear and then all the funny and weird animals they see on their journey. I laughed so much that me cheeks hurt when I got out of the theater.
I will recommend this movie to everyone who likes a good laugh and a great story. They did such a good job with the animation and all the characters have the funniest facial expressions. It is so well though and it actually also brought me a tiny bit to tears in the end. Actually I would recommend this film to everyone. Is it weird to say that I have a little crush on Guy after seeing it? And knowing it is Ryan Reynolds who is doing his voice over just makes it even worse. Enjoy!
---
About this entry
You're currently reading "The Croods (Kirk De Micco, Chris Sanders, 2013) USA," an entry on Student Film Reviews
Published:

02.17.14 / 5pm
Category: