Triptyque (Robert Lepage, Pedro Pires, 2013) CA
Reviewed by Caroline Juul Mortensen at Santa Barbara International Film Festival 2014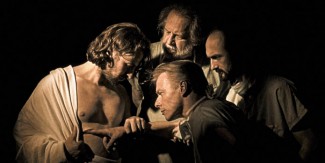 It was actually a coincident that I ended up watching this film at Santa Barbara International Film Festival 2014 but I am really glad that I did. It is not only a story that is unique and different but it is also an experience to watch because the cinematography is so astonishing.
Triptique is divided in three different chapters. It tells us the story of Michelle, who is schizophrenic and works at a bookstore after living at a mental hospital for a longer period. Even though they let her go she still hears voices and weird sounds and she still sees a little girl by a house in the woods from her past. Michelle's sister Marie is a singer and an actress but suddenly she is in need of a surgery. She is warned that if she decides to get the surgery it could result in temporary aphasia, which means that she may loose her voice but she will still be able to sing, just without words. Then there is Thomas, Marie's future husband and a German neurologist, who is forced into early retirement because of a tremor.
This film is a piece of art and visually poetry. It explores the means of language or the loss of it, communication and how we connect to each other. It is amazing how they play with the camera for example by having it inside a house looking through a window while two people are talking outside and in that way make it more mysterious and weird, when we can only hear glimpses of what they are saying. They play a lot with mirrors and windows which had a huge impression on me. I especially liked the first part of the film with Michelle because her world is so dark and creepy. It feels like we're inside her head. The way every sound is a lot louder and almost in slow motion, how she suddenly forgets everything around her and instead she sees flies and a girl running in the woods when she looks out the window in the bookstore. So what I am trying to say is that the cinematography is incredible. The light, the camera angles, the flow, the sounds, the music, the acting, special effects; this is what I think makes the movie.
I don't think I can compare this film with anything I've seen so far but if you're interested in watching something different and extremely well made – as I mentioned before: almost visually poetry – this this is a must see.
---
About this entry
You're currently reading "Triptyque (Robert Lepage, Pedro Pires, 2013) CA," an entry on Student Film Reviews
Published:

02.17.14 / 6pm
Category: