The Great Beauty (La Grande Bellezza) (Paolo Sorrentino, 2013): Italy | France
Reviewed by Poya Salari. Viewed at the Santa Barbara International Film Festival 2014.
Out of all the films in the festival, the one I was looking forward to seeing the most, was Paolo Sorrentino's The Great Beauty. The amount of positive comments I had heard and read about The Great Beauty, had built up high expectations and I had been very eager to see this film for a long time. I was beginning to think my expectations were too high, and that I needed to calm them down, however when the film won the Golden Globe for the Best Foreign Language Film, this felt more and more impossible. Nevertheless, I was very excited to see The Great Beauty.
The film tells us the story of Jep Gambardella (Toni Servillo), a journalist/writer in his mid 60s, as he lives his wealthy life in Rome. We follow Jep as he lives his hectic life consisting of exclusive parties, meeting all kinds of characters and having access to some truly great historical locations. But in the middle of living the "sweet" life, The 65 year old Jep starts to reflect over a lost love from his younger years, and over the fact that he has only written a single book ever, and over life in general.
Over the 142 minutes of running time, Paolo Sorrentino does not just tell us one story. Instead we follow a character true a series of situations and different circumstances. The actors performances in this film are spot on, and the best of them all is the leading man. Toni Servillo delivers a versatile performance, as he is both serious and occasionally funny as he goes from being a caring man to a pompous, cold guy.
Visually, the film is dazzling. It truly is a real beauty of a motion picture. The outstanding cinematography combined with the amazing shooting locations in Rome, present a visual masterpiece. The camera movement is great, as it covers a lot in single takes. The editing most of the time blends in smoothly and sets the rhythm and tone for the film. Paolo Sorrentino and his team really did an outstanding job on this.
The lack of pace is not an issue here, as the film presents itself on another level. It takes its time and delivers a wonderful film. The film reminds one of 50-70s European master filmmaking, and Paolo Sorrentino really makes this film with the spirit of a true auteur. This film is truly a Great Beauty.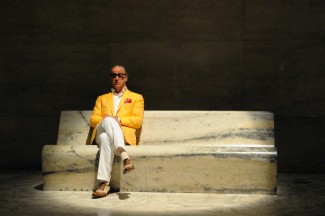 ---
About this entry
You're currently reading "The Great Beauty (La Grande Bellezza) (Paolo Sorrentino, 2013): Italy | France," an entry on Student Film Reviews
Published:

02.21.14 / 7pm
Category: