Santa Barbara Dramatic Shorts, SBIFF, 2014
Reviewed by Caroline Juul Mortensen at Santa Barbara International Film Festival 2014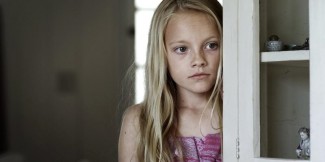 I went to see Santa Barbara Dramatic Shorts at SBIFF in the Lobero Theater. I  didn't really have any idea how it was going to be but I was really positively surprised. They had picked out six dramatic short films made by directors and producers from Santa Barbara.
The first film was "Trespas"(2014) which is a 9min long short film by Keith Schwalenberg. It is about a young high school boy who sneaks out in the middle of the night to meet up with his crush Abby, but his night doesn't turn out as he had planned and he must face a horrible choice. I think the idea behind this film was all right and it has an interesting twist in the end but it didn't really catch me to be honest. The story was a bit too flat and some of the camera angles confused me.
The second film was "ReMoved"(2013) which is a 13min long short film by Nathanael Matanick and this film was also my absolute favorite. It is about an American 10-year-old girl and how she navigates her way through the foster care system after being removed from her home with an abusive father and a mother who is too afraid to do anything and her little brother. She is a strong little girl and all the way through the film we hear her thoughts (voice over) and how awful she feels and how lost she is. It is an absolutely amazing short film. It blew me away. It brought me to tears and it left me speechless. This film is a piece of art. So many beautiful shots with stunning colors and the way they play with the camera and the sun is really inspiring. The girl is an amazing actress and the fact that most of the movie is in slow motion with sad tones in the background makes the meaning behind it so much stronger. It is also the 2013 Winner of Best Film for the 168 Film Festival. After seeing all the screenings the directors of the films told the audience a little about their work, and the director (Nathanael Matanick) and the writer (Christina Matanick) who are a married couple told that they wanted to adopt a child, and then they researched and found out how it is to be a child in the foster care system and they decided to make a short film out of it. The little girl in the film is their neighbor's daughter. She has a bright future in the film industry if you ask me.
The third movie was "Teddy" (2013) which is 19min. long and directed by Ali Lassoued. It is about a young girl who gets kidnapped by an evil priest and then her two younger brothers, age around 10, sets off to safe her. Everything just went wrong in this film. The story was extremely weird, the acting was incredibly bad and the audio and camera work was just off. The only one who did a good job in this film was the dog.
The fourth film was " Present Trauma"(2013) which is a 15min. long film by Mark Manalo. It is about a Marine veteran (Patrick Flueger, also known from "Brothers" 2009 and the serie "The 4400" 2004) who struggles to cope with his wife and son after being in war and seeing all his friends getting killed. Now his past is haunting him. It is a really interesting story and I think Manalo did a great job in the way it is told. The cinematography is really good – light, acting, cameras, special effects; everything is just spot on.
The fifth film was "To Us"(2014) and it is a 21min. long short film by T. S. Meeks. It is about the newly married David and Beth and how they have different expectations of their wedding night. Instead they realize how different their perception on love is and that not everything in their relationship is build on trust. Even though it is easy to tell that it is a low budget film I think they did an extremely good job with this one. The story is really good because everyone expect their wedding night to be perfect and romantic but what if it isn't? And what if you learn new things about your partner right after getting married that you do not like? I learned a lot of this film actually and I think the actors did a really good job. I was truly amazed.
The last film was "Chrysalis"(2014) is a 14 min. long short film by Carissa Stutzman and Joshua Stutzman. It is about 15-years-old Riley who is a prisoner in her uncle's cellar where she suffers under horrible circumstances. It is a cruel and repulsive story inspired by true events but it is so remarkably well made that it is my second favorite of these short films. The married couple Carissa and Joshua Stutzman told after the screening that they went to Africa where many kids are suffering under brutal conditions. They got inspired and wanted to show America some of the mean things that is going on in our world, so they met up with three American girls who survived traumatic happenings and they told them their stories. Mr. and Mrs. Stutzman then wrote the script inspired by the three girls stories. Even though it is painful to watch this film it is really beautifully made. The acting, the lightning, the colors, the surroundings; everything just work and it will definitely leave its mark on you.
This is the first time I've seen short films in the theater and I really liked it. I went in there with absolutely no expectations and I was blown away by most of the films. It was also a great experience to listen to the writers, directors and producers afterwards and I got really inspired. If you're interested in watching short films and if you ever get the chance I will definitely recommend you to watch "ReMoved" and "Chysalis". They were the ones that made the biggest impression on me.
---
About this entry
You're currently reading "Santa Barbara Dramatic Shorts, SBIFF, 2014," an entry on Student Film Reviews
Published:

02.17.14 / 4pm
Category: