Monsters University (Dan Scanion, 2013) USA
Reviewed by Caroline Juul Mortensen at Santa Barbara International Film Festival 2014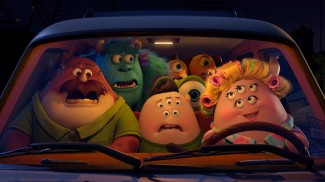 Monsters University is a 2013 Pixar Animated fantasy-comedy directed by Dan Scanion and it is the prequel to Monsters, Inc. from 2001. I was really excited to watch this one because I was such a big fan of the first one when I was a kid back in 2001. I must say that as most prequels/sequels it did not live up to its big brother or my expectations, but it did have a lot of new and funny monsters.
As the title alludes to its about life at a Monster University. Ever since green one-eyed Mike Wazowski was a little monster he has dreamed of going to Monsters University and in that way become a Scarer at Monsters Inc. He is an expert in all the rules and techniques to be scary, but is scary something you can learn how to become or is it something you were born with? That is the question when Mike meets the popular James P. Sullivan (Sulley) who is the top-scarer of the freshmens. Being extremely competitive they both get kicked out of the schools Scare Program. Now they must work together to find a way to get back into the Scare Program by competing against the scariest monsters at MU with a bunch of misfits.
I am a huge fan of Monsters Inc. and it was great to see all the characters again but in other surroundings than in the first one. When talking about the animation and how it is done I am always blown away by Pixar and Disney's work so I have nothing bad to say about that. They are using a great amount of strong colors and the pictures are really bright but it is a children's movie so you can't really expect anything different. I love to look at all the different monsters in the film. Like when I watch "X-men" I'm so excited to see the new characters and their powers – that's how I feel about the new monsters too. I do not think the story was that strong or interesting and unfortunately the humor was not as prominent as I had hoped. I also think it was a bit too predicting which made it a little boring when you're not 7-years-old anymore.
The story reminded my a little of the 1984 comedy "Revenge of the Nerds" by Jeff Kanew which is also about a bunch of "nerds" who has to fight for their rights and their acceptance. I think Monster University amongst other was missing some teenage love. It did have the cheerleaders, but a cute little nerdy monster for Mike would have been epic.
If you liked Monsters Inc. and you're a huge fan of animated films you should watch it but otherwise I would say that you don't really miss out a lot by not seeing it.
---
About this entry
You're currently reading "Monsters University (Dan Scanion, 2013) USA," an entry on Student Film Reviews
Published:

02.17.14 / 7pm
Category: