When Jews Were Funny (SBIFF '14)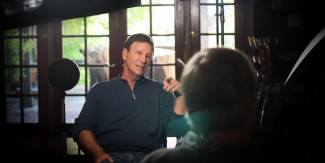 This was the funniest Doc at the festival. Might have been the funniest, period. Featuring "Talking heads" and clever one-liners, When Jews Were Funny, directed by Alan Zweig, seeks to answer the question, – why are 2/3rds of Tony Award winning playwrights Jewish? Why are some of the funniest comedians of all time, the Seinfeld's, the Brooks's, the Goldberg's, the Allen's, all Jewish? What is it about Judaism that makes people funny?
Zweig tries to answer this question by going around, what seems like Sunny Beverly Hills, setting up a camera in their living room and letting them talk. The cameos are pretty cool. Super Bob Einstein shows up, he's the cranky dude that is always picking a fight with Larry David on Curb Your Enthusiasm, he gets angry at Zweig for not being on his game. And for asking such stupid questions like Why are Jews so funny?
Because they've been persecuted since the Middle Ages, because comfort is the enemy of comedy and since Jewish people have no "land" they have never gotten comfortable, because they were some of the first people to emigrate to the New World? Because they came from a post-Industrialist world in Europe and knew how to operate machines and move around in that world, as opposed to Americans that grew up here? What Americans? Isn't America a country made up of entirely non-american Americans?
Zweig seems to also be asking, Where have all the Jews gone? Howie Mandel, to my surprise and from Gasps in the audience I heard, is Jewish! Zweig wonders what's happened to the Yiddish, to the Pastrami shops, to the Motza balls, Marc Maron, another great Jewish comedian with his awesome show on IFC "Maron" and podcast on NPR, asks, how he should raise his daughter?
What I gathered from this Documentary, featuring great archival footage of Jackie Mason, is that with assimilation, the cultural differences, the peskiness, the neuroses, the hyper-awareness, the anxiety, that leads to great comedy, and that happen to embody the characteristics of a self-deprecating Jew, have largely gone by the wayside as their kids kids have become "Americanized" it is a doc that not only celebrates that "the history of 20th century comedy is Jewish" but also, wants to keep it that way.
Judy Gold shows up to talk about "Jewish mothers", who according to her are the source of the "Jewish comedian's" superpowers.
To end, I'd like to remember Sid Caesar, without which we wouldn't have Woody Allen, Albert Brooks and others, and who was also Jewish. I think, he would've enjoyed this Doc.
– keyvan yaldai
---
About this entry
You're currently reading "When Jews Were Funny (SBIFF '14)," an entry on Student Film Reviews
Published:

02.21.14 / 4pm
Category: