The Amazing Catfish (SBIFF '14)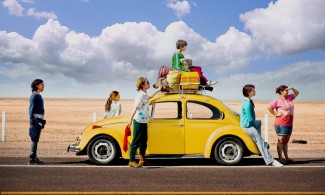 Full Disclosure, This film was shot in Guadalajara, Mexico (where I'm from and reside) and so I have nothing but praise for this low-key Mexican "mumble core" movie. The set-up is simple, ailing Martha (AIDS from an unspecified lover) meets Claudia. Claudia sells food samples at a supermarket and has no family. Martha becomes her surrogate mother and her kids (also from unspecified marriages) her surrogate clan.
The clan is a funny one, idiosyncratic characters and all. There's the chubby sister who drinks juice-shakes with Benzos' tequila and rum in the morning, there's the precocious teen-boy asking how french kisses work, and the angry and repressed older sister who grows jealous of Claudia's and Martha's relationship.
First Time director, Claudia Sainte-Luce who work-shopped the script at the Sundance Institute, lucked out and got Agnes Godard as her D.P, and the film as such has a beautiful visual tone and atmosphere to it. Gritty, dirty frames, lush lighting, long takes. The mastery invisible with this one, but it's there.
The screenplay, written by the director herself, is tight and sharp.
With a gentle quirkiness, it reminded me of Fernando Eimbcke's "Duck Season" (2004) in it's simplicity and aimlessness. This is the minimalism of independent filmmaking, where the story recedes to the background and the characters come to the front. Sweet asides to the beach and a Pop-y soundtrack help.
Joy and messy, beautiful togetherness, is what this film is about.
Naturalistic, and with a yellow Volkswagen bug, think of this film as the "Mexican" Little Miss Sunshine.
– keyvan yaldai
---
About this entry
You're currently reading "The Amazing Catfish (SBIFF '14)," an entry on Student Film Reviews
Published:

02.21.14 / 5pm
Category: