Wild Tales (Damian Szifron, 2014): Argentina/Spain
Reviewed by Dane Angus. Viewed in Hollywood at the AFI Fest 2014.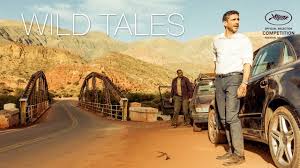 WOW! That's what I've got to say about this incredible film! Wild Tales, directed by Damian Szifron tells the tales of six different vignettes. Each story within this film contains outrageously funny commentary and comedic satire in situations of true seriousness and severity. Szifron even states himself that these tales contain a theme about how people can find the pleasure in losing control. This is the best way ever to describe the basis of each plot!
This movie opens with an incredible introduction that starts out inside a plane and ends up with a view of the plane about to crash strait into the line of sight of the audience. Each tale contains a slow build up of chaos that spills over at the end of each vignette. This chemically calculated formula of comedy mixed with drama along with extreme chaos and loss of control makes for one of the best films I have ever seen! While there is so much going on in each story, the chaos is still managed and controlled in an environment that makes the film so easy to watch. The writing was so detailed and heart felt that the audience could place themselves in that exact situation for each story that would be played out.
My experience watching the film was extra special because I somehow got the last seat in the VIP section right next to the director, Damian Szifron's family! It was so cool. Everyone in the theater was laughing out loud and one could tell that this movie was going to be a great, great success. The fact that it was in Spanish and contained spanish subtitles never crossed my mind while watching the film because I was so captured by the stories being told and played out in front of me so vividly and passionately. The mise-en-scene in every story is so beautiful and well put together that just the scenery and props would entertain me.
Not every story in this film ends happily but I can say with a smile on my face that you will be satisfied with the resolve of every vignette in this film! The combo of great writing and directing by Damian Szifron will get you immediately addicted to Wild Tales that you will want to share it with everyone you know!
I can confidently say that Wild Tales was the best film that I viewed at the AFI Festival 2014.
---
About this entry
You're currently reading "Wild Tales (Damian Szifron, 2014): Argentina/Spain," an entry on Student Film Reviews
Published:

11.18.14 / 4pm
Category: