It Follows (David Robert Mitchell, 2014): USA
Reviewed by Dane Angus. Viewed in Hollywood at the AFI Fest 2014.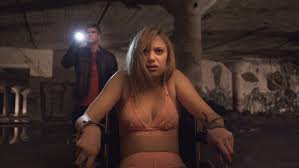 It Follows, a thriller/drama film directed by David Robert Mitchell contains a great scare for any horror movie-goer. The background does not need to be explained, just know, that It will freaking Follow you! The main character, Jay, begins to see horrific sights of dead/zombie looking people slowly coming after her after having demon/curse swapping sex with a guy she recently met. It is just one "thing" that follows her but it can change into any kind of person or animal. If this thing touches Jay, it will end up brutally killing her.
The storyline was entertaining enough to keep me interested and the characters fit very well to the overall setting and mise-en-scene of the film. The plot and editing is continuous and each act in the movie plays out just when its supposed to. This is a classic thriller movie with a few new twists and effects of the 21st century. It Follows is playful, funny, scary, and gritty for being a "high-school" aged thriller film. A few moments of the film I did expect something to happen and then it wouldn't. This is because the film uses lots of loud and creepy noises to hype up the emotions of the viewers…it works. The director uses tons of 360 degree shots which kind of becomes normal throughout the film.
I personally enjoyed this thriller movie and would recommend it to a couple to watch on a boring weeknight or even on a Saturday night. It Follows will leave you feeling very creeped out and wondering if there really are "diseases" like this that can be passed on after getting' down n dirty with the opposite sex.
---
About this entry
You're currently reading "It Follows (David Robert Mitchell, 2014): USA," an entry on Student Film Reviews
Published:

11.18.14 / 5pm
Category: