The Grump, (Dome Karukoski, 2014): Finland.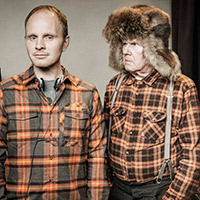 Reviewed by Thiago Coelho. Viewed at the Metro 4, Santa Barbara.
Last year the comedy The Grump of the Finnish director Dome Karukoski, became the fourth Finnish film since 2000 to exceed 400,000 entries. It generated more than 458,637 entries from over two million were sold for national productions, which controlled 27% of the market.
Based on the bestselling novels by Tuomas Kyro, "The Grump" tells a story about a man, old and short-tempered, who is sorely tested by the sudden coexistence of his stepdaughter, a girl who has an open minded and modern. Initially the two of them collide awkwardly, but with the passing of days, they find to have a lot to learn with each other. Thus, what began as a tragicomic disaster turns out to be a touching story with a happy ending.
Dome Karukoski didn't have problem to chose would be the main actor (Timo Lavaikanen). Dome explained that Timo was a huge star from the 70's, and that he is very famous in Finland, so when decided to make this movie he already had thought about Timo, and after that the government of Finland helped him to financial the movie, Timo was a right name to be in the movie. Another fact that makes Dome chose Timo was because when Dome decided to make this movie it was inspired own his father, so he wanted a good and famous personality to make this job, it was very satisfactory played by Timo.
 The Grump has the same comic sensibility and great photography that Lapland Odyssey, other move directed by Karukoski in 2010. The big difference about this movie is that everything is based on shape of Finnish culture, which makes the audience feel a little bit as Finnish. All of the comedic elements take on emotional weight, and it's honest, funny, and heartbreaking.
---
About this entry
You're currently reading "The Grump, (Dome Karukoski, 2014): Finland.," an entry on Student Film Reviews
Published:

02.17.15 / 11am
Category: