The Grump (Dome Karukoski, 2014): Finland
Reviewed by Mia Johansson, Wiewed at the Santa Barbara Film Festival.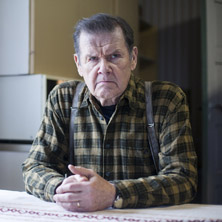 This movie takes place in present time and it's about an older man that lives with his wife in Finland. His wife is not feeling very well so she moved to a retirement home, and then the man has to live with his son, daughter-in-law, and grandchildren. The man is not used to the technology his sons and grandchildren are, he is struggeling to figuring out how to deal with it. Another hassle he has is his daughter-in-law, she hasn't really come around the way he wanted her to. His son is staying in his house to keep things the way they are, he is helping out around the house. Even though the man and his daughter-in-law don't have the best relationship they both went to her job together to pick up some customers. She has an important meeting which possibly could give her a raise, then something happens. In the middle of the meeting, the man interrupts and screw things up, unintentionally.
I would describe the old man as a person who doesn't really know how to show feelings, escpecially to people he really cares about.  One day his wife leaves him for a couple of months because of his struggle to expres feelings. There are many strange things happening while his stays at his sons and wifes house. The man went to a restaurant with his sons wife and her co-workers, he gets very drunk so she leaves him to wait for a taxi. Meanwile he waits for the taxi he founds a homeless man and brings him home with him and let him stay in the house. He wakes up in the middle of the night and then the guy is gone and has taken all of the mans money in his wallet. He wrote a not which said "sorry old man, I couldn't resist".
The son and his wife are having an argument so she stays in a hotel for a couple of days but then returns back home. But in the end he makes up with everyone even his own wife and walks home to stay in his own house, so it is a happy ending of the movie.
In the begining of the movie I thought that the it would be boring and kind of old fashion but I was wrong, I really enjoid the film. It was very fun to watch the and it takes place in the everyday life which everyone can relate to. This makes it is more of a realistic movie and that's what I liked about it.
---
About this entry
You're currently reading "The Grump (Dome Karukoski, 2014): Finland," an entry on Student Film Reviews
Published:

02.18.15 / 12am
Category: