McFarland, USA (Niki Caro, 2015): USA
Reviewed by Olivia Cowzer. Viewed at Santa Barbara Film Festival.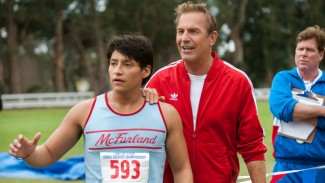 Mcfarland, USA is a movie about Kevin Costner who is a football coach who transfers to another high school in Mcfarland, CA and becomes a PE teacher instead. He and his family moves and they didnt feel that they fit in  at all in there new town. Quite soon he gets the idea to get together a cross country team.
The school had never had a cross country team before so he got some people together and had a go at it. The new people in the team didn't have any confident at all and never believed that they could anticipate in a competition.
As I watched this movie I couldn't help but sidetracking the fact that some people can be so dedicated to something they find passion for, and that truly is amazing! The sound and lightning really helped getting feeling for the movie and made me interested of the film all the time.
When the movie was finished I couldn help getting the feeling that Disney did it once again, a brilliant movie that many people who are athletic or not will fight for something they really want to do!
I truly recommend this film to everyone!
---
About this entry
You're currently reading "McFarland, USA (Niki Caro, 2015): USA," an entry on Student Film Reviews
Published:

02.17.15 / 3pm
Category: