The Lego Movie, (Phil Lord, Christopher Miller, 2014): Australia; US; Denmark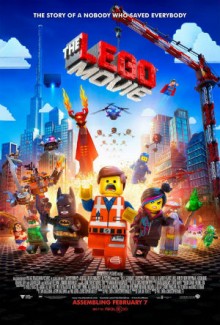 Reviewed by Thiago Coelho. Viewed at the Arlington Theatre, Santa Barbara.
The beginning of this animation is frantic. Without presenting the characters, or the tone of the film, the viewer is thrown directly into the plot, with the conflict between the residents of a quiet market town and interested only in profits president. The robotic movement of Legos and the simplicity of the expressions are used to create one of the most corrosive representations that the American film ever made on the sale. Emmet, protagonist and anti-hero of this story, is a simple man who obeys orders and agree with all the measures of the president.
He regards information on packages, purchase expensive products and repeats to exhaustion unbearable hit local radio: "Everything is awesome," cheerful music suitable for turning people into easily manipulated sheep. The anti-capitalist beginning is so fierce that seems to open the door to a kind of communist manual of reach of children.
Before venturing into the ideology of The Lego Movie, it is noteworthy that disguises its moral, and the amazing visual production. Exploring the style of Lego toys as a creative engine, rather than limitation, the directors Phil Lord and Chris Miller create action and adventure scenes as long not seen. In Lego version, the natural phenomena (tsunamis, fires, fog) gain aesthetically innovative, exciting contours, blending the most advanced digital technology with the precarious aspect of the game mechanic. The solutions found to represent the movement demonstrate the creativity of directors.
Deserve praise the sense of intelligent humor. From the begin to the end, the narrative plays with the limited structure of the legos (a whole piece representing the hair, hooks instead of hands, walking robotic), reaching apex of hilarity when you try to represent the traditional scene of seductive woman playing with her hair, like in a shampoo commercial, only in this case, becomes the solid hair Mega Style rotating around the axis of the head. The story is also full of satire pop, depicting Batman as an arrogant womanizer, Green Lantern as a second line superhero, and including in the same room Chewbacca, Abraham Lincoln, Gandalf, Dumbledore, unicorns and Shaquille O'Neal.
However, not everything is awesome: the 3D is used carelessly, in scenes that little exploit the third dimension. In addition, the 3D projection too dark, losing the brightness and color of a movie that just supports the multicolored aspect.
But these problems are small near completion. In the end, The Lego Movie takes a totally unexpected direction, whose task is to make two more explicit aspects: 1) The uplifting message, combining two almost antagonistic slogans, "United we stand" and "think different from others", 2) The fact that this is a great advertisement for Lego products, making this work the first advertising campaign 1h30 long on the big screen.

---
About this entry
You're currently reading "The Lego Movie, (Phil Lord, Christopher Miller, 2014): Australia; US; Denmark," an entry on Student Film Reviews
Published:

02.17.15 / 10am
Category: