Distributors Seminar in SBIFF (2015)
Reviewed by Furkan Altunkaynak. Viewed at SBIFF 2015.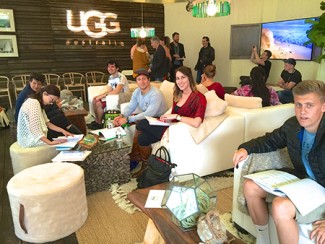 I am writing this seminar because I think that there are people who are like me interested in learning how distributing works for movies. In this seminar 4 people involved, a motion picture selling agent, representative from Media Group, CEO of film festival flips, and a independent distributor. Here are the information I think that are important from that seminar.
There are companies that help you with getting your movie to major film festivals like UTA, CAA, WAM, and Snuck.
Sale Agents, and Producers do exist, no need to be afraid to get your movie distributed. It is not a big mystery anymore like talking famous person in an elevator to get distributed. Knocking on doors is silly idea. Going to places that you expected to walk in like film festivals or companies is a better idea.
Think about what makes your movie sell. Is it actors, objects, subject, or genre plat form to become blockbuster?
Choosing the right agent company is really important. Otherwise, they may not have a person expects and looking for that kind of specific film. They may not understand, what you are showing. Let's say you have a horror movie, you should look up for a horror movie distributor.
The festivals are good way to find big distributors and people. Top film festivals to be visible in business side are Sundance Film Festival, Toronto International Film Festival, Cannes, and Berlin. These are the once that easy to find producers in them but consumer oriented they may or may not have industry companions.
There are markets that are in the film festivals. One of them during the Cannes film festival, other one during the Berlin Film Festival which called EFM and AFM, and also Santa Monica sale agents are foreign side that are waiting to talk about movies.
Digital platforms can make your great movie a failure, a disappearing act in to an ocean. Instead of putting your movie on Netflix or Itunes, even you can put it on Youtube with advertisement that will double the amount you gain from Netflix.
Distributors are therefor to find your audience with what ever you have and expand the audience you can find; not to expend your viewers. They will help you go torch one specific audience that wishing to see what you showing them.
Pre-sale

Finished screen play
With producing elements
With some notes of director
Interesting cast
Cast & Directors name is important for marketing perspective of the movies at this point. Is there a strong name that is enough to make investment?
The important of the director is will the movie stay on budget, will it be on time, and will it be on a certain quality.
Association before the film made, will allow you to get financed your movie.
These are the things that I find important to know from the distributors seminar in Santa Barbara Film Festival. Since, I am a moviemaker too, I have the curiosity of distribution of a movie, I hope this did help, like it help to me understand the process a little better.
---
About this entry
You're currently reading "Distributors Seminar in SBIFF (2015)," an entry on Student Film Reviews
Published:

02.18.15 / 1pm
Category: