Mustang (Deniz Gamze Ergüven 2015): Turkey | France | Qatar | Germany
Reviewed by Rowen Fields. Viewed at AFT Film Festival 2015.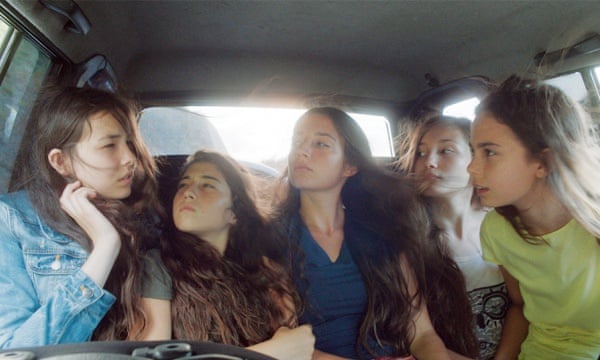 "Mustang" directed by Deniz Gamze Erguven is an exploration of the maturation of women, sisters, in contemporary Turkey. Through these five sisters (Güneş Şensoy, Doğa Doğuşlu, Elit İşcan, Tuğba Sunguroğlu, and İlayda Akdoğan) puberty, sexualization, and personal expression, all under the watchful gaze of a religious family, are examined through this emotionally vibrant film. 
The film starts as the girls are leaving school for summer vacation, enjoying their freedom by going to the beach with male friends of theirs from school, frolicking in the water, playing games and embracing in their youth before they head home. They get home to the scene of their grandmother, furious that they had been "pleasuring themselves" on the back of the boys necks, causing the girls to become outraged and forced to have a virginity check, which thankfully for the religious nature of their family, they all pass. This is the beginning of the sequence of events to start to teach the girls how to cook, clean, and sew, as a way to make them more presentable as wives. Their uncle (Ayberk Pekcan) transforms the house into a prison, keeping them forced in to rolls that the girls have no interest in playing. 
Through this movie, the camera work is used to express the collective desire for freedom, the comradery of sisterhood and of their surrounding women. The camera used a softer focus, blurred, when happy, and harder, more focused when unhappy. The feminist ideals and expression through this film is interwoven through the scenes, especially when focusing on the youngest sister, Lale, who refuses to give in to her families ideals, willing to look in to the world with hope for a different life outside of the expectations of her family.
This emotionally stunning film was touching, able to be applicable in most places and communities. The view of childhood and womanhood was beautifully expressed, allowing for hope and despair to intertwine in this cinematic journey that shouldn't be missed.
---
About this entry
You're currently reading "Mustang (Deniz Gamze Ergüven 2015): Turkey | France | Qatar | Germany," an entry on Student Film Reviews
Published:

11.17.15 / 10pm
Category: