Stereotypically You (Benjamin Cox, 2015): USA
Reviewed by Ashley Wierl. Viewed at the Santa Barbara International Film Festival 2016.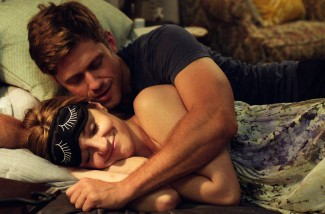 Written and directed by Benjamin Cox, "Stereotypically You" is a laugh out loud comedy. The film stars many notorious comedy actors such as Aaron Tveit, Jason Ralph, Kal Penn, Chris Elliot, and Lewis Black among a large list of others. "Stereotypically You" had its world premiere at the Santa Barbara International Film Festival 2016.
Stereotypically you follows the live of your everyday man, Charlie (Aaron Tveit), in New York City on his journey to find love, and even more, himself. The film starts with a break up, and then goes on to on to adress all those annoying things that come after a breakup, and the new dating scene. With flashbacks, hallucinatory moments, and comical spins on your average stereotypes, the film will have everyone laughing.
"Stereotypically You" is set up in chapters: 1. Mental Health, 2. Living the Dream, 3.wtf, and the final chapter: The Point. Throughout all these chapters are hilarious scenes that overly exaggerate the little, funny, and annoying aspects of life. One scene in particular the cast is visiting the "Banker Zoo" which is supposed to look like a monkey exhibit, with wall street bankers and piles of cash and bowls of cocaine, and even a little bit of talk about inappropriate relationships with the interns. There are also scenes that call attention to annoying lovey couples, over the top flight attendants, and therapists.
---
About this entry
You're currently reading "Stereotypically You (Benjamin Cox, 2015): USA," an entry on Student Film Reviews
Published:

02.22.16 / 10pm
Category: