$9.99 (Tatia Rosenthal, 2008): Israel/Australia
Reviewed by Travis Rennacker. Viewed at the 2009 Santa Barbara Film Festival.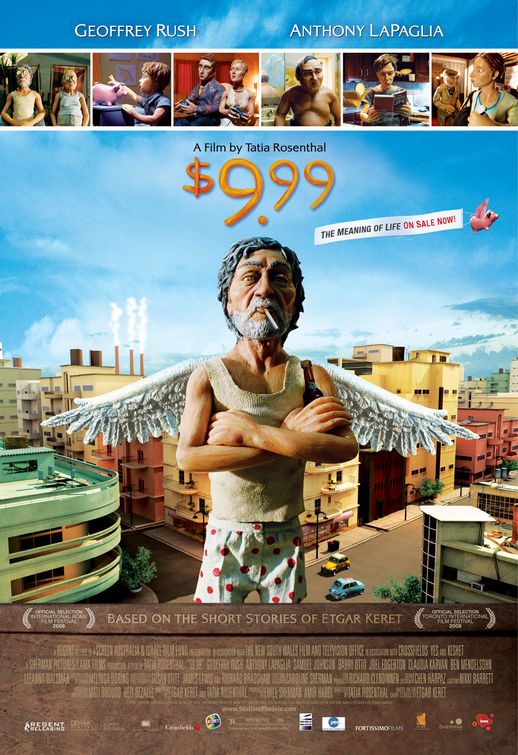 $9.99 is a compilation of short stories by Etgar Keret turned into a stop motion production (much like claymation, but without the clay) by Tatia Rosenthal, although I was assured that Keret was involved with the project.  This film was basically funded by two countries, Israel and Australia.  With a cast of suprising veterans, including Geoffrey Rush (Pirates of the Caribbean) and Anthony Lapaglia (TV-Without a Trace) among others this film catches you in places you didn't know you had.
The story keeps jumping around this apartment building and inspecting the lives of its residence. From a single dad trying to deal with his two sons, to an old widower who meets a rather rude angel, to a kid who's passion is soccer and soccer toys until he receives a little incentive.  All of these characters are wonderful and the stories are intriguing.  This film is fun for all ages and will give something different to everybody.
One of my Favorite films at the 2009 Santa Barbara Film Festival.

---
About this entry
You're currently reading "$9.99 (Tatia Rosenthal, 2008): Israel/Australia," an entry on Student Film Reviews
Published:

02.09.09 / 11pm
Category: