The Death of "Superman Lives": What Happened? (Jon Schnepp, 2015): USA
Reviewed by Katrina Storton. Streamed and viewed in theater.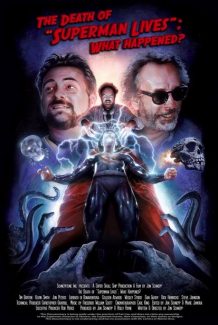 Palms Springs, California just had their first ever Comic Con this past weekend. As a resident of the Palm Springs area, and a frequent convention attendee, I had to support this new event.
Comic Con Palm Springs had no shortage of celebrities for this being its first one. Such celebrities include: Stan Lee (founder of Marvel Comics), David Naughton (American Werewolf in London), Lou Ferrigno (The Hulk), Bob Gunton (Shawshank Redemption, Daredevil), James Hong (Big Trouble in Little China, Kung Fu Panda, Blade Runner, Mulan), Keith Coogan (Toy Soldiers, Adventures in Babysitting, Fox and the Hound), Sam J. Jones (The Flash) and many, many, more.
As an attendee I was able to shake hands and talk with the likes of Lou Ferrigno, Katie Leigh (voice actress from Muppet Babies, Totally Spies, Richie Rich and more) Sam J. Jones and Bob Gunton. I was also able to get pictures and signatures from James Hong, David Naughton, Ross O'Donovan (Youtube personality and animator) and Holly Conrad (Youtube personality and cosplayer). Stan Lee however, I saw him from a distance signing signatures but wasn't able to get very close. He's a popular guy.
As a film student, talking to such famous faces in film was quite a treat. I was able to tell them of my studies, papers I have written on their films, books I had read. Through this I was able to show my appreciation for their work and the roles they played. It was nice being able to say more than just "Hi! Can I have your autograph and a photo please?" (not that there's anything wrong with that, I have said it in the past to many celebrities).
Overall though, one of the best parts of the convention was getting to speak to Jon Schnepp (Metalocalypse, Collider Heroes ABCs of Death) and Holly Payne (Geek 360, The ABCs of Death, Nerd Hunter 3004) who are the director and producer of The Death of "Superman Lives": What Happened? (2015).
The Death of "Superman Lives": What Happened? (Or TDOSLWH as it is commonly abbreviated to) is a documentary uncovering the truth about the elusive Tim Burton superman film starring Nicholas Cage that was never made.
Back in 2013 there was a Kickstarter campaign for The Death of "Superman Lives": What Happened? A Kickstarter that I was more than happy to contribute to. As a huge fan of Tim Burton and his Batman films, learning that he had once intended to make a Superman film truly intrigued me. Upon hearing of the films existence, and seeing some photos of Nicolas Cage in a superman suit, I had to learn more. However, such information was hard to come by. So the idea of someone making a documentary on Superman Lives, uncovering the truth and giving all us fans the satisfaction of knowing what happened, it sounded amazing. I contributed what I could and waited patiently for the outcome.
About a month ago I saw the The Death of "Superman Lives": What Happened? available on ShowtimeAnytime. I watched it instantly and loved every second of it.
Because of this I was so excited upon reading that Jon Schnepp and Holly Payne were going to not only be attending Comic Con Palm Springs, but also be hosting a panel on the documentary. The panel consisted of watching the full length documentary The Death of "Superman Lives": What Happened? and then a very intimate Q&A with Holly and Jon. Not many attended the panel due to misinformation on the Comic Con Palm Springs website and schedule. However, that only made the Q&A session a lot more intimate and relaxed. There was no pressure for time and everyone had their moment to ask a question. Holly and Jon were kind, friendly, funny, super informative and very personable.
Overall, this is a great documentary, one of the best I have seen in a long time. If you are a Tim Burton fan I suggest watching it. If you are a DC comics fan, I suggest it. If you are a fan of Nicolas Cage, Kevin Smith, Jon Peters or Dan Gilroy, then I suggest watching it. If you are a comic book fan or a concept art fan, you'll enjoy it. Overall, this is a documentary anyone can enjoy, you do not even have to know a lick about Superman, DC Comics, Tim Burton or Superman Lives to enjoy it. The interviews are well done, the story/information is well laid out, and the insertions of animation, reenactments, and archived footage is well placed. (Also a 92% on rotten tomatoes is a pretty good score if I might add)
I highly suggest watching The Death of "Superman Lives": What Happened?
10/12/16 EDIT: Even Tim Burton himself told Holly and John that he'd like this documentary played at his funeral. Also recently, John and Holly were able to meet with Nicholas Cage and he commended them for getting the story right.
You can watch it on Showtime if you have an account with them or by going to www.tdoslwh.com you can buy or rent the documentary and even buy and rent the special features. If you like the film I suggest watching all 8 hours of the special features as they provide more laughs, more riveting information and more fascinating intrigues.
Save

---
About this entry
You're currently reading "The Death of "Superman Lives": What Happened? (Jon Schnepp, 2015): USA," an entry on Student Film Reviews
Published:

08.31.16 / 1am
Category: