Miss Peregrine's Home for Peculiar Children (Tim Burton, 2016): USA
Reviewed by Katrina Storton. Viewed in theater.
I am ecstatic to say that recently received an invitation to a private, fan only screening, of Tim Burton's newest film Miss Peregrine's Home for Peculiar Children (2016) in honor of his Hand and Footprint ceremony at the TCL Chinese Theatre (formally known at the Grauman's Chinese Theatre). This screening was held on September 8th, 2016. Almost 3 weeks before the NYC premiere on September the 26 Winona Ryder and Tim Burton
Later, inside the theatre, author of Miss Peregrine's Home for Peculiar Children, Ransom Riggs, came and spoke to the audience.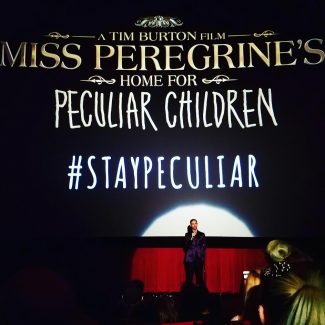 Ransom Riggs speaking before the screening
He expressed his deep gratitude to everyone for attending, for those who read his book and to Burton making a movie out of it. The book came out 5 years ago and since then has spread like wildfire. Burton has been working on the Miss Peregrine's film since 2013. Ransom humbly told the audience how he never thought the film would ever be made, he never thought anyone would read his book. So when Burton approached him, he always expected something to fall through and cause it to never finish. However, the film was made, and he was so excited to sit there with all of us for its first screening.
After Ransom spoke, Burton took the microphone and thanks us all for coming. He seemed genuinely excited. He lightened the room with a few light hearted jokes about people skipping school or calling in sick for work just to attend. He thanked Ransom for letting him adapt the novel and hoped he enjoyed the film. Burton was all smiles and actually had his sunglasses off for once. I mention this because it is known that he always wears sunglasses (indoors or out) during public speaking, interviews, red carpet, and anything similar. Because he had them off makes me assume he felt very comfortable with everyone and didn't feel the need to hide.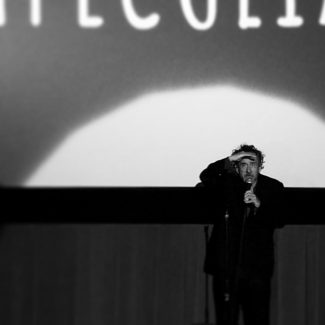 Tim Burton speaking before the screening.
Now, onto the actual film. For me personally, I read the novel back in 2011 and adored it. Read it twice back to back. Instantly after finishing it, I wanted a film of it and of course the first director who popped into my head was Tim Burton. Just look at the book cover, it screams Burton.
Miss Peregrine's Home for Peculiar Children can be appreciated without reading the book but I have to say reading the book beforehand brings a whole other level of insight and enjoyment in the film.
In case you're unfamiliar with the plot. It is about a young boy named Jacob who after the death of his grandfather follows clues to a Welsh island. On the island he finds an abandoned orphanage where his grandfather spent a large amount of his life. There is a lot of time travel involved as well and the book is more of a historical fiction where the movie largely removes the WWII aspect. The book also tells its narrative cleverly through vernacular photographs that author Ransom Riggs has collected over time. In the film, Burton reenactments these photos with the films actors during the credit scene. A wonderful touch for us book lovers.
Burton stuck to the book very well. Some scenes were word for word and some were exactly as I pictured them while reading. Of course certain aspects were changed, and a character or two removed. This however didn't lessen the film and it was still a book lovers dream.
As many who know me know, I can get very emotional about things I love. Especially things that mean a lot to me. This book meant a lot to me and Burton's films mean a lot to me. So when I saw scenes that brought the book to life, I cried. I cried because it was beautiful, brilliant, it's like I was reading the book all over again. It felt as though Burton had somehow brought my imagination to life. It was wonderful. It's the worst feeling when a director adapts one of your favorite books and it doesn't do the book justice. However, when the adaptation is done right, it's one of the best feelings you'll ever experience. Even if you haven't read the book, the film will still leave you in awe.
More about the film itself. The cinematography is gorgeous, the colors are mesmerizing, and the children are peculiarly quirky. The casting was phenomenal as the children looked exactly like those from the photos in the book. Eva Green shows off her impressive acting once again in the memorable role of Miss Peregrine. Asa Butterfield did a great job in his role of Jacob, even though he was older than book Jacob, it all fit wonderfully. Samuel L. Jackson as Barron (a movie exclusive character) was horrifying with amazing special effects makeup (I don't know how he spoke so clearly with his sharp teeth prosthetic) and he was the main comedic relief. Also Ella Purnell did a glorious job as Emma, she made the character truly beautiful.
The underwater scenes are probably the best ones in my opinion. They just give off the most wonder and with 3D glasses you could see the bubbles so close it was like you were swimming with them.
The hollowgasts (the villains) are scary and brilliantly animated. They look exactly as the book described them but also at the same time looked like they were a part of Burton's character universe. There's even a moment of claymation early in the film but the again, it wouldn't be a Burton film without claymation now would it? The film does get dark but there is a healthy balance of light with it. The main fight scene started dark but turned lighthearted soon and then teetered back and forth. The scary dark tones were highly balanced with humor.
The ending was wrapped up very nicely to where I'm not expecting Tim Burton to make a Hollow City movie (the second book) or a Library of Souls movie (third book) but he could if he wanted to. It's open but it doesn't give off the need for another. I would give this film a 10 out of 10 but I may be a bit bias as a devoted Burton fan and a fan of the books. Either way, I hope you will see the film and judge for yourself and let me know in the comments if you have read the book. What did you think about Burton's adaptation? Did you miss characters like Ricky or like the editions like Barron? Did you agree with Burton switching the ages and powers of some of the peculiar children? Would you like Burton to continue and make a trilogy of films?
If you do go to see it, watch out for Tim Burton's cameo! The movie comes out in theatres September 30th, 2016.
---