Moana (Ron Clements/John Musker, 2016): USA
Reviewed by Thomas Luke Madenwald at the AFI Film Festival in Los Angeles, California.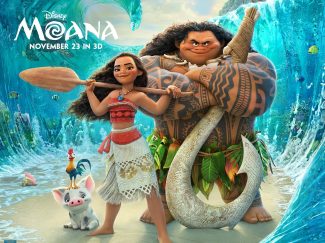 Moana tells the story of a young girl who is raised to be the chief of her village but keeps being drawn by the mystery of the world beyond the horizon. When her island begins to be threatened by an ancient darkness, she is swept off on an adventure where she must find the Demi-god, Maui, return life to the islands, and save the day.
Let me first start off by saying The Rock was the PERFECT casting to voice Maui. He brought so much charisma and life to the character that I was entertained by him ever time he was on screen. The chicken was by far my favorite part of the film and for those who haven't seen the film yet, I won't spoil anything but you'll know exactly why it is after you see it. I laughed out loud historically in a few sequences involving the chicken; so much so that I had to try and stifle it as to not bother others. But it was never an issue because everyone in the theater, old and young, were laughing their heads off.
The color and animation of this film was was the equivalence of visual candy you couldn't get enough of. The visuals plus a beautiful and heart-warming story is whats going to make this film a successful Disney classic. Especially the song Moana sings as she longs to see whats past the horizon. Personally, this really spoke to me and I know it will to the new generation of kids who feel lost and disenchanted with our society. This film forges hope into the minds of anyone who has the pleasure of seeing it. Hope, that there's something beautiful left in the world, waiting for us to discover it. Long story short: the ocean is blue'er on the other side.
The editing and cinematography are great. They give the film a wonderful rhythm and tempo that bring you to emotionally powerful scenes that wash over you like a warm ocean current. You'll laugh and smile through most of the film but don't underestimate this movies ability to give you the "real feels", as you'll find yourself choked up on a few occasions. Well, for me anyways.
I give the film a 7 out of 10. There were some moments where I felt the story was rushing along but it never took me out of the film. I just wasn't ready to leave some of the fantastic settings the film brought to life. All in all, this film is worth going and seeing on the big screen.
---
About this entry
You're currently reading "Moana (Ron Clements/John Musker, 2016): USA," an entry on Student Film Reviews
Published:

11.17.16 / 8am
Category: