Harmonium (Koji Fukada, 2016): Japan | France
First I would like to start of by saying this is a 100% on rotten tomatoes I never took them seriously considering they were always so low for many films that I enjoy but for some reason I saw this before the movie. It made me put this movie on a pedastal and since it has it has stayed. This drama film will make you shed tears. The film follows a man who had it all but was to preocuppided with work to see it. i highly recomend the movie it is a great moral to life.
This is a great Japanese film it has sparked motivation to see more. The movie was directed by Koji Focada the director of many films, and Tadanobu Asano who was also in Thor and the antagonist of this movie does a great job.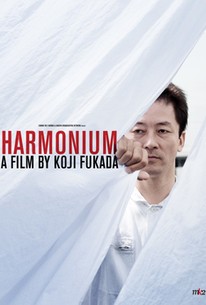 I screened this film at the AFI Festival in Hollywood.
The movie is begins with a typical family with a father, Toshio played by Kanji Furutachi and mother Akie played Mariko Tsutsui
with a daughter. The household is completellety traditional and the man the provider has full power. Then one day an old friend, Yasaka played by Tadanobu Asano reunites his old time friend, Toshio   in search of a job and shealter for he had just gotten out of prison. Toshio has employed Yasaka but Yasakas appriciation of the evryday and his ability to play the Harmonium and teach the little girl for her talent show.
The film uses alot of close up shots and slow music to cultivate deep imotion within the viewer. The movie takes you through many emotions by the actors wonderful acting.
This move reminds of the notebook in that you are getting a real story out of this film it was not slapped together by sponsors but felt by the screenwritter and portrayed by the director.
This film could be enjoyed from the mature teen through up 99 it leaves the viewer for a sense of optimism and relasation of to account for the little things. I would storngly reecomned watching this film. You wont be able to guess the ending.
Reviewed by Diego Mendoza. Viewed at the AFI Fest, 2016.

---
About this entry
You're currently reading "Harmonium (Koji Fukada, 2016): Japan | France," an entry on Student Film Reviews
Published:

11.17.16 / 10am
Category: