Icebox (Daniel Sawka, 2016): USA
Reviewed by Vincenzo Muia at the 2016 AFI Film Festival. Part of the Cinema 5 Shorts.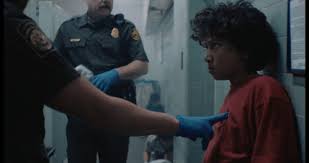 Recently awarded the 2016 AFI Film Festival's Grand Jury Award for Live Action Short, Icebox is a thesis film written and directed by Daniel Sawka, a graduate of the American Film Insitute's MFA Directing program. The film's explores the topic of illegal immigration, a polarizing and contemporary social issue recently brought the the forefront by the United States Presidential elections. Director Sawka lends his vision and research which portrays the struggle of juveniles seeking refuge across the border and the dehumanizing, bureaucratic system whose aim is to send them back.
The film follows young  protagonist Oscar, powerfully portrayed by Anthony Gonzales, as he attempts to cross into the United States on bicycle along with a small of other bike riders from the desolation of the Mexican border. Fearing that Oscar is a liability, he is left on his own to attempt to cross over the border. Helpless, in great discomfort and without clean water, Oscar is spotted by the US Border Patrol. A brief footchase ensues, followed by a struggle which includes biting the hand of an officer, Oscar is apprehended is brought to a juvenile processing facility for processing.
Upon arrival at the juvenile processing facility, it bears evidence of a system which has no compassion for the juveniles, ages 11-13. Oscar is entered into the system, given a different set of clothes and led to a holding yard enclosed by high fencing along with several other children from differing nations of Central America.  Provided with tin-foil blankets for warmth, the children sleep in close proximities on the floor to avoid freezing, pinning their hopes on an eventual video trial with a judge who may grant them refugee status or rule that they be deported.
What is learned about is Oscar is that he is from Honduras, attempting to unite with an uncle who lives in Phoenix. When he is granted his phone call from the facility, he calls his mother back in Honduras and maintains the disposition that he had reached his destination safely, a ploy to avoid her disappointment. Her relief is followed by a reminder that Oscar cannot return back to Honduras.  Finally, Oscar's day in court arrives via video trial, and in the most powerful, heart-breaking sequence of the film, Oscar reveals details of his horrible past that no child should ever experience.
The short film ran 27 minutes followed by a Q & A with director Sawkas. Interestingly, he drew inspiration for the narrative from stories he was told by Swedish immigrant family members who had undergone unwelcoming treatment upon their arrrival in America. Icebox is profoundly vivid with characteristics associated with cinéma vérité.
The Cinema 5 Shorts were outstanding. The bar of filmmaking is being raised each year by student filmmakers who have plied their studies into their craft with award-winning results, providing a positive outlook for future filmmakers students. Very highly recommended.
---
About this entry
You're currently reading "Icebox (Daniel Sawka, 2016): USA," an entry on Student Film Reviews
Published:

11.23.16 / 1pm
Category: