Split review (M. Night Shyamalan, 2017): USA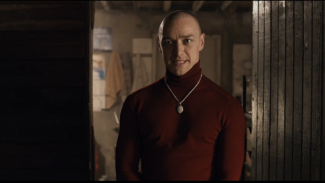 Split is a very interesting movie, the intense thriller will have you cringing and then leave you with an interesting moral. The movie although low in budget makes up with the the rich character like the antagonist with the 23 erratic personalities in one Man against 3 young beautiful girls. It is all shot in a 3rd person allowing the viewer to connect with the antagonist and the victim.
This film was mostly concentrated on the larger than life character named  Kevin and his 23 diverse personalities there is a shot in the movie that shows 23 different tooth brushes on the sink. The director M. Night Shyamalan does a fantastic job of taking the viewer out of reality and places them on a reality where state of mind can change brain chemistry. The screening for this thriller fit in perfectly with Hollywoods eccentric crowds in the AFI Fest.
The film begins in a bowling alley where a birthday party had finished and the host where waiting for everyone to depart safely. The birthday girl Claire played by Haley Lu Richardson and her friend Marcia, Jessica Sula are discussing with Claire's father about if Casey played by Anya Taylor-Joy if she needs a ride. Claire approaches Casey to give her a ride and Claire says that she would take a bus the dad steps in and insisted. The next shot is of the girls getting into the car buckling up while the father is putting items in the trunk Casey looks through the sideview mirror to see left overs getting dropped. The villain sits in the drivers seat and takes control he sprays the girls with a knockout spray and the thriller begins.
The film concentrates on suspense and using the villains weakness into his own downfall. The director uses lots of music to play or complete silence to increase the viewer emotion. The film is very dark not just in subject matter but in the lighting. The acting in this movie is very well done but the psychiatrist, Betty Buckley and  specially James McAvoy did a great performance of playing multiple people.
The movie reminded me of Panic Room in the sense that the victims where trapped within a room. I have seen the movie Stuart Little by the same director I would not compare the films but the director shows great control with his shots.
This is definitely a movie for couple to watch on date night. It is very thrilling but not too bloody giving the right amount of suspense with story.
---
About this entry
You're currently reading "Split review (M. Night Shyamalan, 2017): USA," an entry on Student Film Reviews
Published:

11.23.16 / 1pm
Category: