La La Land (Damien Chazelle, 2016): USA
Reviewed by Laurine Lambert. Viewed at Antioch University, Santa Barbara.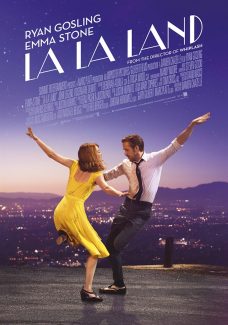 La la land the most famous movie at the moment, a beautiful enchanting musical romance.  Written and directed by young director Damien Chazelle. La La Land is the big winner of seven Golden Globes 2017. Played by the outstanding actors: Ryan Gosling who plays Sebastian, and Emma Stone who plays Mia. Chazelle captures the musical spirit. If you don't like musicals like I do, you will still love this movie. Its not like any musical movie you expect. La La Land is one big happy moment to watch. This modern musical tells you about a romantic story between two lovers.
It tells the story about Mia (Emma Stone) who wants to fulfill her biggest dream: to become an actress. She has to struggle with the tough rejection in the film industry in Los Angeles. Sebastian (Ryan Gosling) is a jazz musician who wants to open his own jazz club, and also wants to make his dream come true. They are both struggling with their dreams in the city. The films starts with a song. Its a shot of the typical traffic in Los Angeles. People are dancing and singing the song "Another day of the sun". That is the first moment Mia and Sebastian see each other. Mia finds it very hard to go from audition to audition and keeps getting rejected. Sebastian still wants to open his own jazz club, because nowadays jazz music is disappearing. They find it both hard to make things work their own way, but when their relationship commences they support each other. Their love affair takes place against the most famous historic places in Los Angeles. It is an ode to romance, love, the film industry, The American Dream and Los Angeles.
La la land takes the style and the feel of a 50s movie with a modern twist. In the traffic scene in the beginning, you notice right away that it is a modern movie with new cars and cellphones. The cinematography of the film is magnificent. There are many shots filmed with a dolly. The film has lots of bright colors, but the director mentioned they did that on purpose. Like Emma Stone's dress had to go well with the color Ryan Gosling was wearing. You could see they were really paying attention to the matching colors.
I really recommend this movie to everybody! You might not be a musical fan, but La La Land will change your mind. It is a spectacular movie with lots of funny and happy scenes, but also sad scenes, the tragedy of love. It really tells you how tough it is living in the city of dreams, but also the city of rejection. The dance and singing scenes are really entertaining to watch, but not only those scenes you will remember, also the little scenes are fine pieces of acting. Damien Chazelle did a really good job, and so did the actors. This is one of the movies you will have to see in your life. 
---
About this entry
You're currently reading "La La Land (Damien Chazelle, 2016): USA," an entry on Student Film Reviews
Published:

02.09.17 / 9am
Category: