Charged (Phillip Baribeau, 2017): USA/ Mexico
Reviewed by: C. Zangi Angeli.  Viewed at opening night at the Santa Barbara Film Festival at the Arlington, 2017.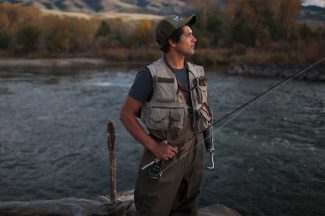 If you are in any way weak in spirit you will be stronger after watching this true story/ documentary about the fierce and courageous Eduardo Garcia. This  is a survival story. This is Eduardo Garcia's survival story!
Edward's father moved out on his family when he was a young child.  Edward's Mother, a spiritual woman,  moved to  Montana with her two young sons  to be closer to a spiritual group she was connected with.   Eduardo and his brother with no father now to discipline them  relished the freedom they had as they acted out with feisty purpose and gregariousness.  This freedom was a gift and a sword not having their father with them for the male energy needed some direction.  There was a buried emptiness that Eduardo carried with him and mostly hidden until he eventually confronts these issues years later after his accident that turned his life upside down and sideways.  The tragedy that befell Eduardo was while he was hiking in  the Montana back country when he saw a bear lying lifeless and he went to investigate. His zest for life and all that he was was challenged that day.  The bear he found was laying on a fully charged  electrical box and when Eduardo touched the bear he was also electrocuted with 2400 volts of electricity.  He did not die that day as one would expect.  Thus this documentary "Charged" opened with Eduardo in the hospital with life threatening injuries.  This scene was not for the weak and even though you wanted to look away you were hit with this mega smile that seemed more than the volts of electricity that could have put him down.  Wow!  Faced with incredible pain and injuries to his body, arms and muscles and a real whole in his head he smiled and not a weak smile.  You became hooked on the mega smile and the man.  Ordinarily you would be saddened for his fate but he seems to be a "teacher" of sort as he defies the lie he is down. His longtime friend and companion, Jennifer Jane, an English woman, was called to return to Montana as she did not know when she got there if she would find Eduardo alive or dead.  She had her camera at the hospital and decided to document his hospital stay.  Jen is also the subject of the story and is instrumental  in the recovery of Eduardo.  She was his rock and was that companion that gave with no expectations to Eduardo.  Her love and support was freely given and this gave Eduardo that edge he needed to keep his own energy up.  When you looked into his eyes you saw the depth of his fierceness was more than just stamina.  The story documents Eduardo's and Jen's  friendship and their connection.   The story weaves in and out showing Eduardo's recovery and healing of his wombs with scars still prominent and some amputation of his arm and another  serious illness discovered within him he had to endure and conquer.   Eduardo documents these challenges with more grace than anyone I have seen.  It only inspires one to not give in and to challenge your life and you will come out on the other side a better human being as you are not blinded by what you see but what you can achieve.
The camera work and editing was quite good considering how they started out in a novice way to document his hospital stay as professionalism pulls it together.  The pace of the documentary was also good.   Dennis Aig, one of the producers was also the producer of a multiple award winning documentary, Unbranded.   Ellin of Entourage was another producer.  They did a great job putting all  the pieces together  and a lot to edit.
I met both Eduardo Garcia and Jennifer Jane at a seminar behind the Lobero.  Jane is both beautiful within and without and has moved on to do many things herself and that includes her own show as a stand-up comedian.  Eduardo is amazing with  piercing blue eyes and he does not let life pass him by and has many irons in the fire and if anyone can do it he can.  He has something a lot of people do not have.  Can I define it? Well, I am not sure but I feel he has something extra. You meet these people but cannot really define it.  They are rare and few between.

---
About this entry
You're currently reading "Charged (Phillip Baribeau, 2017): USA/ Mexico," an entry on Student Film Reviews
Published:

02.19.17 / 7am
Category: