La La Land (Damien Chazelle, 2016): USA
Reviewed by C. Zangi Angeli  (Viewed as a special screening at Antioch University as part of the Santa Barbara Film Festival 2017)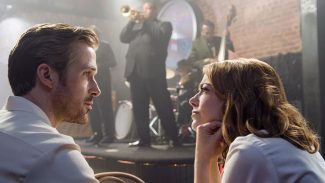 La La Love – oops…. La La Land razzle-dazzled me with it's brilliance and special lighting and special effects to where I was sure I could dance,  fly and soar to the stars or at least the mountain tops!  Surely if you have been in love you just knew you could do it for real.
You could sing and dance and win your love over.  But and there is the but and the but is sometimes timing is everything!  La La Land is about our dreams, schemes and romantic escapes partnered with conflicts and diversity.  Damien Chazelle, writer and producer must be the true romantic as he makes us fall in love with Sebastian, an intense jazz pianist and a zealous jazzz connoisseur (surely jazz should have an extra z for Sebastian's zealous passion)  As an actor, Ryan Gosling plays Sebastian so artfully and tenaciously.  If you were a woman, young or old you wanted to be Mia (played by Emma Stone) only to look into his  eyes and sing your heart out and just dance the dance.  Life or love and or "life and love" does not always work out and one can reminisce of love lost.   Melancholy, happy and sad you ride the rails of life as Sebastian brings full circle his career dreams and shares his vision of what could be with his Mia.  Mia played by Emma Stone is a barista for a coffee shop on the Warner Brothers lot.   Stone as  Mia is alive and electric and she achieves her fondest dreams to be an actor and family comes to her.  Mia and Sebastian had a depth between them that fell short of a realization other than they knew they would always love each other as they grappled with career dreams.  It was not necessarily love at first site in the beginning so it did not come easy at first when both decided each was not their type.  At first they were repelled by each other and  yet strangely compelled towards each other so this push- pull created  tension and you eventually got swept away so ready for them to come together like Fred Astaire and Ginger Rogers.
Oh and by the way you will want to rock your heart out in the opening scene of the Los Angeles freeway full of colorful cars stopped in a terrible traffic jam as drivers and passengers make use of their time as they dance and sing to "Another day of  Sun."   (One of the amazing original  songs for this movie/musical).  I dare you to not want to get up and dance too.  The lighting and photography through out the movie is superb and impressive. Damien Chazelle as writer and producer creates a worthy film with attention to detail that has won so many awards  from so many awards shows.The Academy Awards is coming up and has now been nominated for up to 14 impressive Oscars.
You will want to see this 2 hr. and 8 minutes of movie/musical more than once.  Sebastian says to Mia "See you in the Movies"   and I say to you ,
"See YOU at La La Land more than once!"
---
About this entry
You're currently reading "La La Land (Damien Chazelle, 2016): USA," an entry on Student Film Reviews
Published:

02.19.17 / 7am
Category: