Your Name (Makoto Shinkai, 2016): Japan
Reviewed by Veronica Arvidsson. At Santa Barbara International Film Festival 2017.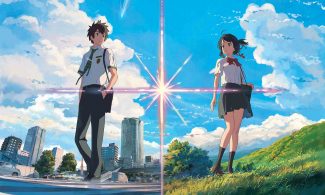 Makoto Shinkai has been involved in the making of many animations in the past not only as writer/director but he has managed to leave traces as cinematographer, producer and various different art departments on films like "5 centimeters per second" and "Hoshi o ou kodomo". However his latest film "Your Name" is really the one that stands out from the bunch. Your Name has received many nominations in different occasions and won the category of best animation at the Los Angeles Film Critics Association Award.
A small town girl Mitsuha and a Tokyo situated boy Taki, who both have trouble finding their place in the world, one day realizes the shocking truth of their connection to each other. In their dreams they enter each others lives and spends the day walking around in the others body. What they believed to be simply very realistic dreams just so happens to be the life of the other person. When they go to sleep they wake up the next day as themselves again and so it goes on for a while. They soon learn to cope with this very well, leaving each other messages and updates of what has happened during the day so that the other one doesn't wake up clueless on what's going on in their lives. It turns out however that the bond between them is stronger than either of them had imagined and it soon becomes crucial for them to find each other.
Despite the fact that the animation is beautiful and the focus on details are incredible, it carries beautiful messages on growing up and finding oneself. It deals with themes of expectations and pressures from family and society that's being faced when growing up. It's a film about inner journey told with big symbolism.
The story is rich with montages to bring the story forward and music from different genres to set the mood of the scene. I'm okay with it but it's on the borderline of putting to much trust on telling a story with fast speed just to move forward. I'd say it's decently constructed, but it's what's being told that really captures my interest. The characters' search for each other as well as their search for themselves is what ties them together with a figurative and literal bond and it's relatable for anyone who has had doubts on where they really belong in the world and who they really are.
---
About this entry
You're currently reading "Your Name (Makoto Shinkai, 2016): Japan," an entry on Student Film Reviews
Published:

02.17.17 / 6pm
Category: