Fire At Sea (Gianfranco Rosi, 2016) Italy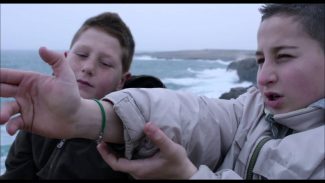 Reviewed by Natalia de Oliveira Segreto. Viewed at Santa Barbara Film Festival 2017.
Fire At Sea did not only win Golden Bear at the 66th Berlin International Film Festival but also got nominated for a Best Documentary Feature at the 89th Academy Awards. This production made use of cinema form in a way to bring up the humanitarian issue and crises in Europe. In this documentary, we follow these problems acting on everyday life in a small island of Lampedusa, southern coast of Italy.
The picture contains very extremely sad moments of hundred of thousands of African and Middle Eastern migrants struggling to survive and juxtaposes focusing also on the life of the 12 year old Samuelle, a peculiar local boy who acts like a man, a already prompt character in real life. Samuelle brings humor in contrast to the real problem presented by the feature. The audience gets used to his attitude towards life while accompanying scenes of his on the island playing with his friend, staring at a street and eating with his family. Samuelle is a truthful character that entertains anyone very easily. We also get to see a lot of the boy's family and structure while following his grandparents routine that takes us to a confidential and cozy place.
We have access to footage of real rescue of migrants, which brings us to many intimate moments amazingly captured by Gianfranco Rosi. The director-cinematographer stares and brings the audience to a view of what happens in a way never seen before, letting us knowledge how unprepared the rescue really is and how hard it is to keep watching the film without caring so much after every single cut. Gianfranco Rosi sees through every person that goes in front of the camera their personal and delicate trait, knowing exactly what to do next and letting all flow instinctively. He captures the vulnerability of many that show up, ordinarily taking us inside the contest of a doctor that explains what kinds of struggles these migrants go through.
Some scenes are painful to watch and I specially love how Gianfranco Rosi chose to manage the right amount of crudity of the documentary so the seriousness of it is not left behind while also bringing to our eyes the every day life of a unique young boy.

---
About this entry
You're currently reading "Fire At Sea (Gianfranco Rosi, 2016) Italy," an entry on Student Film Reviews
Published:

02.20.17 / 6pm
Category: