On Body and Soul (Enyedi, 2017): Hungary
Reviewed by Larry Gleeson. Viewed during the Berlin Film Festival 2017.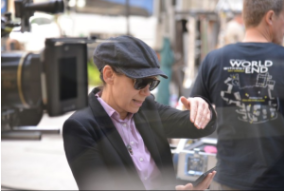 Director lldiko Enyedi on set during On Body and Soul. (Photo courtesy of Berlinale.de)
On Body and Soul (Testről és lélekről) from Budapest Writer/Director Ildikó Enyedi captured the hearts and minds of the audience early this morning at the spacious Berlinale Palast Theater.
Director Enyedi manages to weave together a narrative with parallel story lines for the first half of the film. Beautifully shot, Enyedi's On Body and Soul showcases a stunning mise-en-scen with the woods setting.
The other setting is a slaughterhouse. No details are left out. Everything from immobilizing cattle for fattening to gutting the animals with their entrails and blood pouring from their opened undersides. These, however, are just the details. The real story takes place in the moments in between.
Two co-workers, Maria and Endre, have a thing for each other. Neither one can seem to find the right words or make an appropriate move. Endre is the company's Director of Finance and acts more like a site general manger. Maria, on the other hand, is relatively new, and operates as a quality control inspector. She is referred to throughout the film as Doctor. She's smart like an idiot savant and manages to portray aspects of an awkwardness somewhere between addled and autistic. She's also obsessively compulsive.
One day, a burglary has taken place and a large amount of mating powder has been lifted. The ensuing investigation borders on the macabre. Without credible physical evidence, an annual mental health assessment is ordered to begin immediately. A shapely, auburn-haired woman with a rather sassy style conducts interviews with all the employees. Most of the questions revolve around sexual and reproduction issues and histories. Based on the responses, she makes a conclusion about who the thief probably is. One aspect of the study, however, is skewered, and sets in motion a lovely sequence bringing the two awkward co-workers into relationship.
Filled with subtle humor and adult idiosyncrasies, On Body and Soul, is making an early case for the Golden Bear at the Berlin Film Festival. Stay tuned for more. In the meantime, I'll see you at the cinema!
*UPDATE: On Body and Soul received the 2017 Berlin International Film Festival's Golden Bear, the festival's top prize for a film.
---
About this entry
You're currently reading "On Body and Soul (Enyedi, 2017): Hungary," an entry on Student Film Reviews
Published:

02.11.17 / 5pm
Category: