Charged: The Eduardo Garcia Story (Phillip Baribeau, 2016) |USA/Mexico
by Finso Gyaltsen, viewed at the Santa Barbara International Film Festival (Feb. 2017).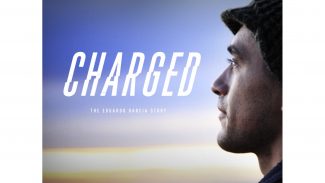 Charged was the opening night film at the 32'nd Santa Barbara International Film Festival, only the second documentary to do so in the festival's history. The documentary revolves around the recovery and rehabilitation of celebrity chef Eduardo Garcia after he is electrocuted by 2400 volts of electricity in the backwoods of Montana.  I thought the documentary wasn't bad, it had the usual talking heads, the sappy tear jerkers, the overcoming of an obstacle and a bit of vertical cell phone footage. The audience even had  Eduardo Garcia himself come out on stage after the movie to give the audience a few words which truly enriched the whole experience.
The documentary gives us viewers an inspirational journey and a thoughtful lesson on life and overcoming, where we see Eduardo deal with a multitude of challenges, from losing his hand, to a loss of muscle mass around his torso, overcoming cancer, and readjusting to life itself after his list of ordeals. Throughout his recovery Eduardo is accompanied by a longtime friend and ex-girlfriend Jennifer, who stays by his side till he is good enough to care for himself, the relationship that is portrayed and built throughout this experience is also an important and special part of the story. The documentary itself has some graphic footage from the hospital, and a few sad thought provoking moments here and there, along with beautiful cinematography of the Montana mountains.
A small portion of the documentary went to places meant to give insight on the kind of person Eduardo is, like his family and background, particularly how he was raised in his youth without a father and how he moved to Montana. In the latter parts of the film where Eduardo is readjusting to back to normal life, the documentary moves to a place meant to show his current relationship with his father, which felt like they were there for the sake of being. The portrayal of this father-son relationship felt both real, and hollow at times. Overall I'd give the documentary a 3.5/5 on my much acclaimed movie rating system.

---
About this entry
You're currently reading "Charged: The Eduardo Garcia Story (Phillip Baribeau, 2016) |USA/Mexico," an entry on Student Film Reviews
Published:

02.19.17 / 10pm
Category: