Fire at Sea (Gianfranco Rosi, 2016): Italy
Reviewed by Elijah Kimmel in the Lobero Theatre at the Santa Barbara International Film Festival 2017.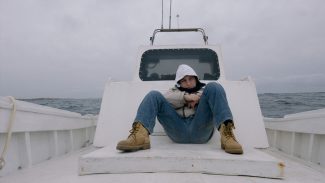 Fire at Sea is a riveting documentary which covers an extremely hard hiding subject with amazing cinematography and an extremely likable lead. The film is directed by Gianfranco Rosi and stars 12-year-old Samuelle Pucillo, an Italian boy native to the island.
The film takes place 200km off the Italian coast on the island of Lampedusa, a place which has become the epicenter of the African and Middle Eastern migrant crisis. On this island hundreds of migrants from third world nations land on these shores with the dream of finding more opportunity and a better life in Europe. The film also follows the life of local Italian boy Samuelle who loves to play outside with his slingshot and who's childhood seems to be unaffected by the crisis.
Juxtaposition is key in this film as it features both horrific and beautiful imagery of the migrant crisis, but the film also has a completely different tone than when following Samuelle . The camera takes you to the frontlines of a boat that has just landed on shore with malnourished passengers being dragged on to coast guard boats. Their bodies were extremely thin from the lack of food on during the journey and seemed very close do death. Seeing images like this shows how desperate these people are to come to a land with more opportunity, it also drills in your mind how terrible the conditions are on these boats. On the positive side of the film is little Samuelle, and extremely charming boy who is much more mature than his age. Everyone in the audience fell in love with Samuelle because of the way he speaks with his hands the way Italians do, the way he talks to adults like they are the same age, and how he seeks entertainment in the great outdoors with his imagination. The film opens with a long shot of Samuelle going up to a tree and cutting off a "Y" shaped branch, he then adds an elastic strap and turns it into a slingshot. Samuelle doesn't need an iPad or iPhone because that slingshot serves as his greatest source of entertainment. He also has a show stealing scene with his doctor as they discuss getting glasses, the little boys mature speech and hand gestures is hysterical to watch. After watching horrifying images of the migrant crisis Samuelle still manages to put a smile on the audience's face. The film also features amazing cinematography,  I was consistently thinking "how did they get shot?". Some shots feature almost Wes Anderson like symmetry with real people, real boats, and real helicopters that are all so well framed you would think it was staged if it wasn't a documentary. The film also features great underwater and aquatic cinematography.
Anyone that is a fan of informative hard hitting documentaries this is the next one to watch. This is an amazing film that will blow you away with its amazing cinematography, it will make you laugh with little Samuelle and make you horrified with images on malnourished migrants landing on shore. Most of all it sheds light on a very serious subject that is not getting enough attention and doesn't have a solution.

---
About this entry
You're currently reading "Fire at Sea (Gianfranco Rosi, 2016): Italy," an entry on Student Film Reviews
Published:

02.20.17 / 12pm
Category: