La La Land (Damien Chazelle 2016) |USA
Reviewed by Finso Gyaltsen. Viewed at a special screening at Antioch University, Santa Barbara Film Festival 2017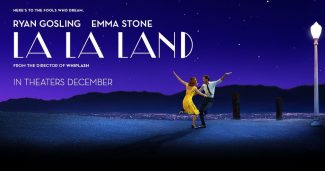 In one of the opening sequences of La la land,  Emma Stone convinces us of the character she plays, wearing a blue dress, she gives the camera a deeply melancholic look that catches us viewers in a trance and makes us forget about the other roles with which she attracted the camera of Hollywood filmmakers, her role in Zoombieland (Ruben Fleischer, 2009), and her work on Birdman (Alejandro González Iñárritu, 2014) which gave Stone her first Oscar nomination as the daughter of Michael Keaton.
In La La Land,  Ryan Gosling endows a unique personality to that of the jazz pianist which he plays,  performing to his best on every occasion. Crazy Stupid Love (Glenn Ficarra and John Requa, 2011) is another movie where Gosling and Stone lead and shine. However here in La La Land, Gosling and Stone achieve a harmonious chemistry which embodied perfectly on screen, thanks to the direction of Chazelle.
With Whiplash (2014), his first feature film, Chazelle demonstrated his ability to bring his characters to the edge – played by Miles Teller and J.K. Simmons – to achieve their dreams, with musical compositions  accompanying them that rose more and more intense permeating in our minds and memory. While the director once again chooses music as the central axis, La la land disguises this obsession with love: this around time we see an actress seeking her opportunity in Hollywood and a jazz pianist who refuses to forget the classics.
With La La Land, Chazelle plays to follow the intention of his protagonist Gosling: in trying to revive a classic. A genre which hasn't had much traction in recent years. With long open shots to show the corporality of the characters, the dream sequences – one in which the protagonists practically the touch the stars – they then return to materialize musicals of yesteryears like Swing Time (George Stevens, 1936) and Singing in the rain (Stanley Done , 1952). The director weaves a fable with a dreamy atmosphere and a realistic and trending message – Some dreams cost too much.
---
About this entry
You're currently reading "La La Land (Damien Chazelle 2016) |USA," an entry on Student Film Reviews
Published:

02.20.17 / 1pm
Category: