Zootopia (Byron Howard, Rich Moore et Jared Bush, 2016) USA
Reviewed by Pierre Balloum at the Santa Barbara Film Festival.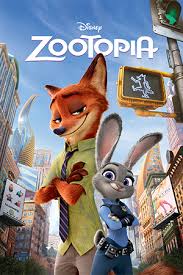 In the continuing flood of the feature film for youth, we must now distinguish the merit of those who propose the exhibition from a new universe. Zootopie is not the umpteenth part of a franchise, an adaptation of a manga, a video game or some toys, but an original idea.
The first part thus allows the discovery of a city where the animal species, civilized as they could be (at least officially) men. In addition to the intrigue and the humanist springs of utopia, it is mainly the cartography of the place (presented via a monorail which strongly repeats one of the most beautiful sequences of the pursuit of tomorrow) which reserves its small share of 'Enchantment: the profusion of species, a climatic distribution by neighborhoods, causing a variety of decorations served by quality animation, and in detail, a constant play on the different proportions of the inhabitants. In most of the sequences, we will play on the richness of these potentialities: a chase run in mouseville by two protagonists who seem godzillas, a game on the clichés attributed to each space (lazy, wolves can not help 'Screaming') or on the waist, obviously: sexism of which the main rabbit is victim to the possible scam with a gangsta fenec pretending to be a toddler, the ideas are constantly fueled.
The plot is certainly fairly linear, and seems to purr a moment before taking relatively interesting directions: it is jointly to deactivate the myths inherent utopia, while overthrowing the traditional poles of the domination of the strong by the weak: The reflections launched here and there on the strength of numbers ("prey" being 10 times greater than "predators"), manipulation and power by fear are rather well brought.Another quality is also to be sought in the temper of his characters: the duo of this buddy movie rabbit / fox works quite, and even if it is stitched with white thread, following in the footsteps of a Rox & Rouky, Gives us the means and the time to attach ourselves to it. Admittedly, some facilities in the gate supposed to seduce the parents in the room are not always very fine (references to the Godfather, or Breaking Bad for example), and the abundance of sets and turns can lose a little the youngest of the public. But we are far from the irony putassière become customary in the animation, testify the enucleant trailers seen at the beginning of the session. Freshness, discovery, tenderness: Disney remains in the race, with a return to childhood that can prove beneficial.
---
About this entry
You're currently reading "Zootopia (Byron Howard, Rich Moore et Jared Bush, 2016) USA," an entry on Student Film Reviews
Published:

02.20.17 / 11am
Category: