The Creative Forces: Women in Biz Panel 2017
Reviewed by Rachel Gately. Viewed at the Santa Barbara International Film Festival 2017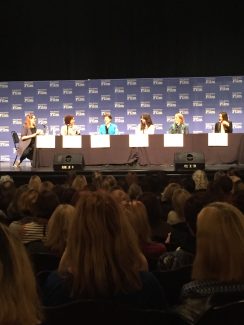 Women make up 50% of the U.S. population yet are still paid around 75 cents on the dollar when compared to men. That statistic hasn't changed since the 1980's. Twelve years ago, in 2005, SBIFF chose to honor the 50% by adding what is commonly called the "Women's Panel." Over these years, the festival has highlighted women's work in the industry in a variety of occupations. This year, audience members heard the wisdom of two producers, a casting director, a choreographer, and a director of photography. These areas of expertise are broad-reaching and clearly the lot of them hold a vast amount of knowledge. Yet somehow it felt as if there was something…or someone…missing.
Over the last five or six decades, women have progressively taken on more responsibilities and leadership roles outside of the home. Many classic films were written by women, whether or not they received public recognition for their work. Among hundreds of other classic film industry women, Dorothy Arzner, Ida Lupino, Mary Pickford, and even Mae West were all very talented professional writers as well as, respectively: directors, producers, and actors. In many ways, the film industry of today is more dominated by men than ever. Could the selection team at SBIFF find no women writers for neither the Women's Panel nor the Writer's Panel, which was suspiciously devoid of women?
With an audience of 75% women in a packed house on the very last day of the festival, has the Women's Panel been reduced to an obligatory nod? Joanne Notasegara, one of the producers of the timely picture The White Helmets, was the only woman living and working with the very religious group called the White Helmets who are working to alleviate the suffering in Syria. She spoke about the challenges of making the film and the deep sadness in the region. Many attendees were moved to tears, and still, were left wanting more. What was her day to day life like as a woman in this position? Disappointed audience member Susana Pozuelo from Madrid, Spain agrees, "The women's panel was not what I was expecting. They spoke about their roles in the industry but not about their roles as women in the industry. I wanted to hear more about how a woman like myself can break into the male-dominated industry."
Perhaps the  panel members and the audience would have been more truthfully served by an "Other Jobs in the Industry Panel" instead. Actress, writer, and videographer Jennifer Jane, who hired director Phillip Baribeau to take over the production of Charged: The Eduardo Garcia Story after having shot on her iphone a large amount of footage in Eduardo's hospital room gently explained that no, she wasn't the Director of Photography. In fact, she was not even a participant in post-production. If she had been a man, would the selection team have made this error?
Casting director Deb Aquila and choreographer Mandy Moore, who both worked with Ryan Gosling and Emma Stone in La La Land, spoke about meeting Gene Kelly's wife who surprisingly gave them full access to Mr. Kelly's script notes. Deb Aquila referenced casting the film in which she saw a need to "fall in love with their dreams and hope with them." Where were the references to Gene's great female dance partners like Judy Garland, Debbie Reynolds, and even Lucille Ball? Sexism is so insidious in our culture that even women working in the industry have no idea they are contributing to it by their lack of feminine representation. Rather than speaking about their experiences as women in the industry, they shared how they filled their roles by consulting with a dead man. La La Land indeed.
When we shed light on a situation we become witness to it. An audience of mostly women were looking for witnesses but found only women doing remarkable jobs in their fields. Wouldn't it be nice if women were proportionally represented on all of the other panels? I look forward to the day when this panel is obsolete.

---
About this entry
You're currently reading "The Creative Forces: Women in Biz Panel 2017," an entry on Student Film Reviews
Published:

02.24.17 / 4pm
Category: